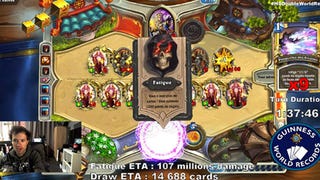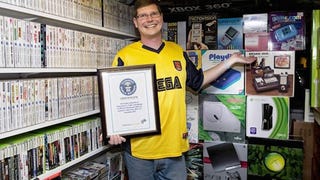 When Michael Thommason put it up for sale earlier this month, the prospect of taking hold of the world's largest video game collection probably seemed like a tall order for gamers lacking the necessary funds or storage space. But one had the luck and $750,250 necessary to take home the prize.
Growing up in the 1970s and 1980s, I remember being awed at when the TV specials based on the Guinness Book of World Records would show up on network TV. I'd see really big things! Really small things! Weird life forms out of 1950s monster comics! A guy who'd never cut his fingernails, like, ever! One after another,…
Jimmy Fallon had 10 game consoles set in front of him on Late Night yesterday. He tried to claim a world record by playing each in 60 seconds. Officially, he fell short. But did he really? Watch and decide.
It was 25 years ago today, Scott Safran taught the world to play... Asteroids. On this day in 1983, 15-year-old Scott Safran began playing Asteroids at an arcade in Cherry Hill, New Jersey. Three days later, his last ship was crushed by a vector rock and he staggered back from the cabinet with a record-breaking score…