With 18 LEGO movie games released since 2005, the developers at TT Games are constantly finding new ways to spice up the standard stud-collecting adventures. The first gameplay trailer for LEGO Star Wars: The Force Awakens shows off the three they've come up with this time around.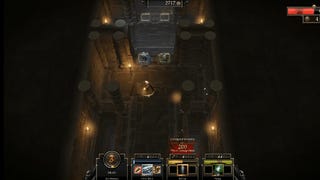 In the original arcade classic Gauntlet it was "Elf shot the food." In the new version launched on Steam today, it's "Elf dodges through enemies, leaving us to fend for ourselves while he scoops up all of the gold." I can live with that.
The box art for the next LEGO Batman game sure is understated. You can barely even see him up there. I almost pulled out the pointing fish. Other than Batman's small stature, everything about this box art is awesome.
The fact that you'd be able to play as Deathstroke in the upcoming Batman game squeaked out a few months ago, but this trailer is the first look we're getting of Slade Wilson in action. Bad-ass, no?
The folks making Batman: Arkham Origins know exactly what they're trying to accomplish with this year's Dark Knight video game. It's the story of the night where Gotham City's supervillain culture spins irrevocably out of control. This is when the Dark Knight becomes a legend, they say. So, it's really too bad that…