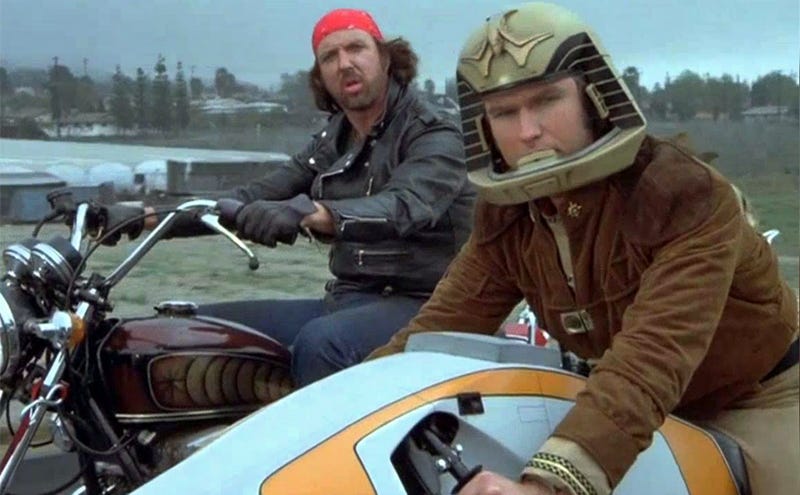 The X-Files, Heroes and Twin Peaks are all coming back to our screens soon, with at least some of the original castmembers returning. Sounds great—except that this sort of thing doesn't always work out. Here are the most ignominious examples of classic TV shows that were reanimated...but they came back wrong.
Right now, we're falling in love with BB-8 from Star Wars—and yet, there's still a special place in our hearts for Johnny Five, the robot from the Short Circuit films. But how much do you actually know about these films? Check out this video, featuring 16 electrifying facts about the making of this duology.
Most of us just know a few of Skynet's most famous killer cyborgs. The T-800, played by Arnold Schwarzenegger. The T-1000, made of liquid metal. But there have been a stunning 15 models of Terminator, from Cyberdyne and Skynet, as featured in the movies, TV series and games. Here's our complete guide to all the…
Making a TV show is a terrible grind — especially back in the day, when shows were entirely made up of standalone episodes. So it's no wonder that so many classic shows reached for the same handful of plots, over and over. Here are 12 storylines you'll find in every old science fiction and fantasy show.
Television has always been an expensive medium, with Lost having an estimated per-episode budget of $4 million, and Game of Thrones clocking in at a whopping $6 million. And sometimes, these hugely expensive shows fail. But here are 10 of the best science fiction and fantasy shows, which were made for surprisingly low…
Sometimes it seems like every villain is obsessed with murdering the hero of the story. (Or making the hero realize they're alike.) But it's not true — in fact, some of the best villains have their own goals, and the hero just happens to get in the way. Here are some great villains whose schemes don't revolve around…
Sometimes it can be confusing to be a fan of pop culture. Sometimes writers leave halfway through a story, and a new writer has to wrap things up somehow. Sometimes a creator gets fired, and the replacement told to change gears in a hurry. Here are 20 stories that changed drastically when the writer left in the middle.
Even among other genre films, comic-book movies used to be viewed as disposable pulpy fun. But we've now reached the point where serious A-list actors are vying for roles in superhero films. And actors are actually bringing their "A" game. Here are 12 amazing performances that helped elevate superhero movies.
The moment we get immersive virtual reality, you know what people are going to use it for: the same thing we've used every other new technology for. And as long as movies have depicted virtual environments, there have been ridiculous VR sex scenes. Here are the most bizarre and hilarious VR hookups of all time.
It's all been leading up to this. Hundreds of pages, or hours, of buildup, leading up to the final confrontation between the forces of excellent and the forces of not-excellent. And then... it's kind of a bust. The bad guys kind of fold. Or the fight lasts 30 seconds. Or it's just thumb-wrestling. Here are the most…
This weekend sees the release of The Legend of Hercules — and then later this year, we'll see a second Hercules movie. This seems to happen a lot: everybody gets the same bright idea at the same time, and competing films are rushed into production. Here are a ton of cases where weirdly similar films did battle.
Superheroes don't just wear costumes to disguise themselves — they take on a whole heroic identity by slapping on the spandex. So it's no wonder that supers like to keep their suits in elaborate glass cases, so they can stare at them and brood. Here are our favorite scenes of superheroes staring at costumes in cases.