Recently released in Japan, Namco Bandai's Tales of Hearts for the Nintendo DS features a slew of support-character cameos, including everyone's favorite gnosis killing machine, KOS-MOS.
Tales of Hearts is Namco Bandai's latest entry in the series — though this time Namco Bandai is releasing . One is a realistic CG version, and the other one is cutie anime version. If that wasn't enough (it's not, really), Namco Bandai's team has joined forces with Circle K convience stores to offer curry. This…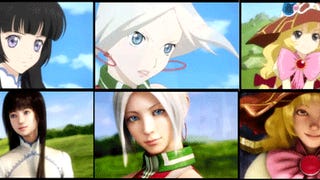 In an effort to either appeal to more consumers or confuse the crap outta them, Namco Bandai is releasing two versions of DS game Tales of Hearts, the 11th entry in the franchise. One version will use animation style cutscenes and the other one will use computer graphic style cutscenes. Hit the jump for another…

Announced earlier this week, here's some footage of the latest Tales game for the DS, Tales of Hearts. Glad they went to the trouble of including some CG stuff for a DS game. Also glad they've gone to a lot of trouble for the rest of the graphics, because for a 3D game on the DS, this is looking nice.