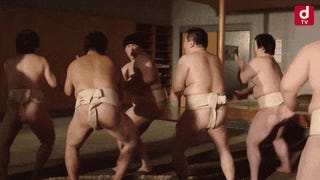 Taiwan's Lin Yu-chun might be most famous for his rendition of "I Will Always Love You." He sometimes appears on Japanese variety, showing off his incredible gift. Now he's starring in a new Japanese TV show, showing off more than that.
Don't go in expecting E. Honda or Ganryu-style throwdowns in this new graphic novel about sumo wrestlers. Giant near-naked men do slap each around in
Sumo
, but the true pain comes from one transplanted quarterback's broken dreams.
They really do. This 1960s era photo is from a school athletic meet, and it shows a group of sumo dressed up as cheerleaders to entertain the kids. Decades later, I know I'm entertained.
Sumo wrestlers dressed up as Cheerleaders 1960s [Japan Sugoi]