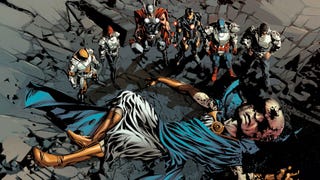 If you like comics, you're going broke this summer. Seriously, talk to an accountant about bankruptcy now, because there's no way you'll be able to pay rent if you even want to buy half the awesome comics coming out this summer. But at least this guide will help you determine which half to blow your savings on.
Are you ready for one wild summer? This year brings legendary superheroes, famous monsters, and fantasy icons. There are two Michael Bay films, but also the ultra-weird Guardians of the Galaxy. Plus the post-apocalyptic Snowpiercer. Here are 33 science fiction and fantasy movies you need to know about this summer.
We've got a long list of television to keep you cool and safe from the terrible, terrible outdoors. No longer is summer where bad TV goes to die. Under the Dome, True Blood, Axe Cop and Falling Skies are just among the few of some of the shows being aired in the high heat months. Here's our ultimate guide to summer TV.
Will this be the summer that all your favorite icons reach their true potential for greatness on the big screen? Or will all your favorite characters be stuck in generic tentpole films about angst and terrorism? We'll find out soon! Here's the complete guide to this summer's science fiction, fantasy and comic book…