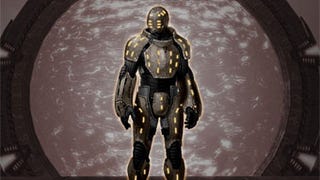 Addressing concerns raised by Stargate television show producer Brad Wright, developer Cheyenne Mountain has issued a statement assuring everyone that development on Stargate Worlds is still underway.
Stargate executive producer Brad Wright echoes the feelings of thousands of fans, calling the delay of Cheyenne Mountain's massively multiplayer Stargate Worlds "a terrible shame."
In less than two weeks the Stargate will open, allowing the first group of closed beta testers into the world of the hit Sci-Fi Channel television program. The Stargate Worlds closed beta kicks off on October 15th, and the developers are confident that the game is entering the home stretch.
"From now until launch,…
Click to view
Here's the first gameplay trailer for FireSky's upcoming MMO, Stargate Worlds, based on the hit television series Stargate SG-1. It immediately reminds me of Richard Garriott's Tabula Rasa, with a bit of Anarchy Online thrown in for good measure. It's got the sprawling battlefields and action-packed…