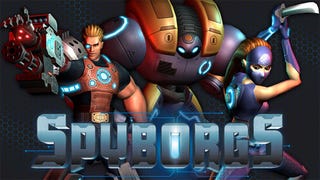 Part man. Part machine. All beat-em up. This is Capcom's Spyborgs for the Nintendo Wii.
It looks like Capcom has toned down the corny dialog a bit in the second webisode for its upcoming Wii beat-em up. Either that, or they used up all the cheese in webisode one and had to revert to regular exposition. Now that they've established the game's three heroes - Stinger, Clandestine, and Bouncer - along with…
In a season full of delays, Capcom pushes up a game for a change, moving Spyborgs' release date from September 29th to September 22nd. Capcom punctuates this happy news with the release of the first episode of the Spyborgs animated web series, and my goodness is it oozing with cheese. This is hammy cartoon voice…
Capcom-Unity released this gameplay video, which in addition to showing, like, gameplay, also accompanied a 10-point breakdown of how to exploit Spyborgs' combo system. The pre-release record, from Capcom's combo guru Derek, is 350.
Here's a gander at some of the presentation showing off gameplay. Do you feel the same way now that it's in action?
Capcom unveiled Spyborgs earlier this year. It was met with near-universal "uh, nothankyou". So, rather than soldier on, Capcom have taken your advice to heart, and will be almost entirely remaking the title.