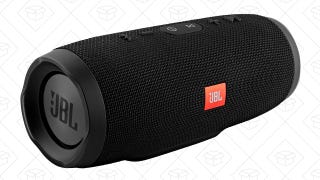 Whether you're singing in the shower or catching up on podcasts by the pool, water-resistant Bluetooth speakers are inexpensive, plentiful, and far more useful than the shower radios that preceded them. But with so many options, we want to know which ones are really worth the money, so check out the rules below, then…
Whether you're in the market for a new keyboard, mouse, speaker system, or webcam, Amazon's got what you need in today's Logitech Gold Box.

Samsung says these fancy wireless speakers were created at a "state-of-the-art audio lab in Valencia, California." We know better. They're clearly the product of Aperture Science, the secret think tank responsible for a hilarious murderous artificial intelligence, not to mention one hell of a teleportation tool.
The 2009 Design, Innovate, Communicate, Entertain Summit has updated its list of speakers, and right at the top of the precariously teetering pile is Valve co-founder and president Gabe Newell.