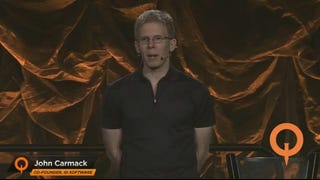 Speaking at QuakeCon today, Id's John Carmack said they're hard at work on first-person shooter Doom 4 and it will be "done when it's done."
This year's QuakeCon Bundle Steam sale is crazy. It'll save you over $200 and get you the following games for just $100...
Gee, that's it?
Apogee Software's mid-'90s cult-classic first-person shooter Rise of the Triad is coming back, with the help of the Danish studio that remade Duke Nukem 3D. The new Rise of the Triad will be developed by Interceptor Entertainment and Apogee and will be out as PC download through Steam later this year.
Id's annual celebration of virtual people shooting other virtual people will take place August 2 – 5 at the Hilton Anatole Hotel in Dallas, Texas. If you start studying up for John Carmack's annual keynote right now you should be able to understand it by then! [QuakeCon]