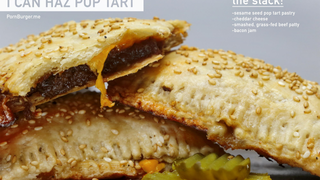 Self-professed 'burger pervert' Matthew Ramsey of the completely evil PornBurger has fashioned meat, cheese, bacon jam and sesame seed pastry into what he is calling "I Can Haz Pop Tart." I will not be convinced the dark arts weren't involved.
Stop — just stop. I know what you are going to say. "Fahey, you already reviewed Pop-Tarts. You even suggested a new slogan for Kellogg's — I believe it was 'Pop-Tarts: F*** Breakfast.'" That's true, but these are not Pop-Tarts. These are new Pop-Tarts Gone Nutty Exclamation Point, and they are beautiful monsters…
The Pop-Tart was originally created as a way to capitalize on fancy new dog food foil freshness technology. True story.
In
the early 1960s
, Post created a method of wrapping dog food in foil, preserving its freshness without the need for refrigeration and effectively ending hilarious primitive sitcom dog food eating…