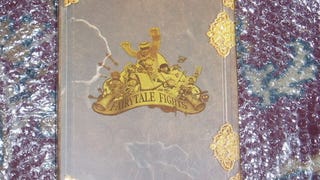 About the only thing I didn't find in my elaborate collector's edition of Fairytale Fights that I expected to find but didn't is the severed head of a gnome.
Playlogic is so pleased that people are buying Fairytale Fights that they're giving away free DLC for the first 90 days of release, with even more extra content for the most loyal fans.
Well, that "Kill 1,000 Children" Achievement might be gone, but the M-rated gore-fest that is Playlogic's Fairytale Fights will still be in blood red attendance at the Penny Arcade Expo.
That will be our story for today, dear readers, how rewarding players for killing 1,000 child characters in Fairytale Fights is in the game, as of now, but ... yeahhhh ... likely won't be in the final release.
Don't worry, the latest new character for Fairytale Fights isn't always a naked man with a sword. Sometimes he has an axe.
Why simply explore the beloved fairytales of your childhood when you can carve a bloody path through them in Playlogic's Fairytale Fights?
Playlogic's 2007 PC shooter Infernal is getting an Xbox 360 makeover in the newly announced Infernal: Hell's Vengeance.