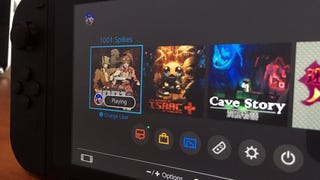 Here's a sneak peek at the Switch's user interface—and hey, look at those indie games! I will totally replay Cave Story on Switch. UPDATE (1:52pm): Nicalis deleted the tweet that was originally here, so here's the photo they tweeted.

Nicalis founder Tyrone Rodriguez has been tweeting teasing pics of The Binding of Isaac: Rebirth running on iPad and iPhone over the past couple of weeks. Then last night he shared Apple's rejection notice.
Cave Story Wii isn't the same Cave Story you already know and already love. For starters, it's getting a graphical facelift, character art and all. But that's not all; it's also getting downloadable content.
Click to view Well, here it is moving. Looks wonderful. Excuse the sound though, it's a work-in-progress.
In case you missed it, Cave Story is coming to the Wii. As a WiiWare title. If you don't have a PC and don't mind paying for a free PC game, there is no question, you should get this game. But just in case there are any questions, know that the Wii version isn't a straight-up port. It's having its graphics tarted up.…