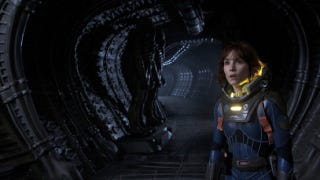 Absolutely stunning movie trailers for The Dark Knight Rises and Prometheus exploded all over the web in the last 24 hours. A few weeks ago, it was the promo clips for Looper that got everybody buzzing. Like lots of other folks, I eagerly watched all those teasers over and over again. And I can't stop thinking about…
Paramount Digital Entertainment today announces the appointment of former Eidos vice president of product development John Kavanagh to the position of Senior Vice President of video games.
Activision has released a trailer for their movie tie-in with the upcoming Dreamworks Animation 3D feature film Monsters vs. Aliens, and it actually doesn't look half bad.
It's time for another stab at a Terminator video game, this time based on the upcoming film Terminator Salvation, due out in theaters next May. Developed by GRIN studios, Salvation will be an intense action game featuring John Connor fighting against the forces of Skynet in order to prevent the storyline from…