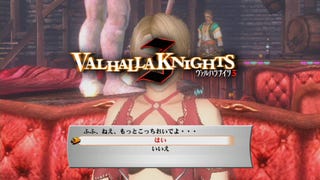 I initially had some problems with Valhalla Knights 3 with its Sexy Time system. Still, that didn't keep me from clocking in well over 120 hours of gameplay time. Just a 120 hours!
The original Senran Kagura was created because designer Kenichiro Takaki thought it would be a good idea to use the 3DS to look at breasts in 3D. Thrilled with the results, he made a sequel, and now that sequel is coming to North America this fall. Oh boy.
2013 is only 1/12th over. With 11 months left and new console news on the horizon, Weekly Famitsu asked its readers what games they were looking forward to for this year. Here's a list of the top 30 anticipated upcoming games for 2013 (note: All publishers and release dates are for Japanese release versions):
…
Continuing its
interview series
with , this week sat down with Kenichiro Takaki of Marvelous AQL to talk about his thoughts for the future.