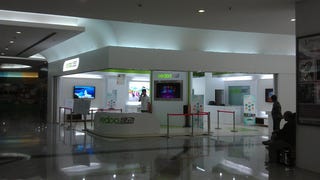 China's first home grown console hit China late last month. But the console was incredibly hard to find. This wasn't because it was flying off shelves. It was because nobody had heard of it.
Originally known as the Ebox and the iSec, the now named CT510 from Eedoo felt very much like vaporware. In China, home…
For years now, there have been rumblings about the
eBox
, or its other moniker, . Yet, the console was pushed back, and then it seemed to vanish completely. Well, it's back and slated to come out soon. Real soon.
The iSec, Lenovo's home game console, was supposed to be out this fall. According to Chinese reports, it will get a limited release this December in the Mainland. Previously called the eBox, the iSec has Kinect-style controls and will cost 3,000 yuan (US$470).
China is closed off to Sony, Microsoft and Nintendo's consoles, meaning the first console available for sale in that country - aside from the knockoffs, of course - will be home grown. Today the iSec, renamed from the "eBox" announced last year, was unveiled.
To find out the best laptops of 2010, we checked in with Mark Spoonauer who, as editor-in-chief of Laptop Magazine and Laptopmag.com, oversaw 140+ notebook and netbook reviews this year. If you're buying, buy one of these.