Back when I was a kid growing up in the outskirts of Philadelphia it seemed as if every house on the block had a copy of the classic wooden Labyrinth marble maze game. Now that I'm technically an adult I've got one of my own, only much cooler.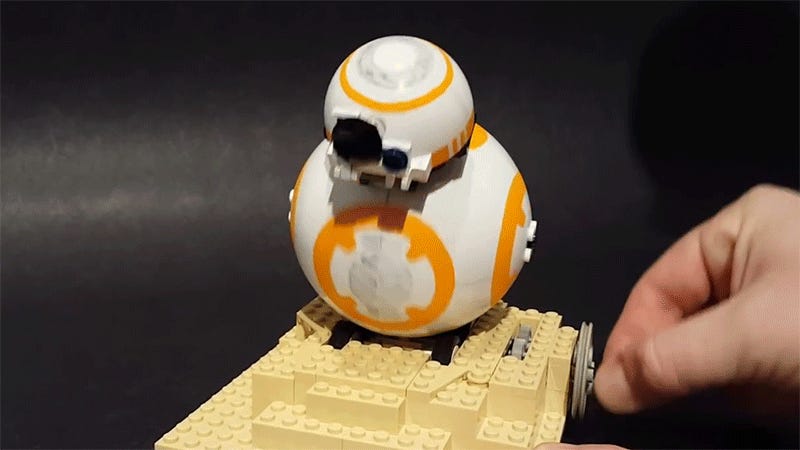 There is no shortage of fan-built Lego BB-8s across the internet, but Mark Smiley and James Garrett have managed to build a tiny one that actually rolls, while keeping its head floating on top, using nothing but Lego components available in standard sets.
It feels like ages since Lego announced that it would be making a set based on Doctor Who—but now we don't need a time machine to find a future where it's out. It's finally happening this December, and it's looking rather fantastic if you're a fan of all things wibbly, wobbly, and maybe even timey and wimey too.
Having made it through a previous round of LEGO Ideas vetting, Alatariel and GlenBricker's Big Bang Theory set is now a real product, including all you see here for a mere $59.99 later this year.

New LEGO Star Wars sets are coming out every year, yet there are still iconic buildings, ships or minifigures missing from the otherwise huge catalog. Elgiemd's fan-build on LEGO Ideas adds one very important set to the list: Bespin's Cloud City from The Empire Strikes Back.
Back in November I told you we were dangerously close to getting an official LEGO set based on the adventures of everyone's favorite Time Lord. Today LEGO Ideas made it official—we're getting an official Doctor Who set, courtesy of Andy Clark of Firaxis Games.
Builder Savath_Bunny shared superb-looking Pokémon center on LEGO Ideas and filled it with the main characters, Pokémon starters and all the gadgets you can find in the games.
Alvin Lim's LEGO project features classic cartoon characters from the 80s, but this time it's not the Ninja Turtles or Transformers, but characters from an underdog show: Centurions.
The results of the latest LEGO Ideas review are in and at least two fan-built projects will soon be official LEGO sets. The ornithology-focused LEGO Birds Project and a set based on The Big Bang Theory are coming, but the real exciting news is that the board is still considering two different Doctor Who sets for…