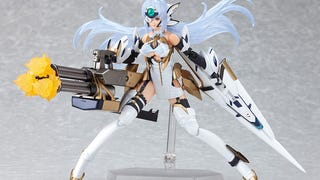 Spotted at Japanese figure event Wonder Festival, this ALMECHA Xenosaga III KOS-MOS Ver.4 sample was on display. Looks nice!
It's all come down to this. From thirst five robots down to two. Now Xenosaga's Kos-Mos and Knights of the Old Republic's HK-47 square off in the final round of the Kotaku Robot Wars.
The Kotaku Robot Wars continue on the other side of the world, as Osaka Japan and Canberra Australia are reduced to steaming piles of rubble and broken robot parts...but whose broken robot parts?
Recently released in Japan, Namco Bandai's Tales of Hearts for the Nintendo DS features a slew of support-character cameos, including everyone's favorite gnosis killing machine, KOS-MOS.