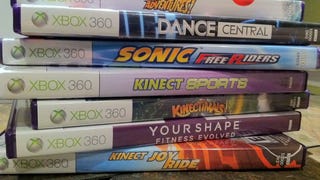 The Xbox 360's Kinect launched today with more than a dozen games. We played through half a dozen of them.
Sonic Free Riders is the most broken of the Kinect games I've played and that includes a half-dozen titles. It's unfortunate, because another strong action racing game would be a nice addition to Kinect's…
Combine racing video games with air guitar and you've got Kinect Joy Ride, a game that just might be the closest we get to a Wii Sports of the Kinect launch.