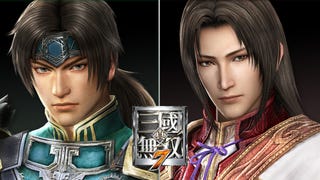 Jump Festa is a yearly event hosted by Shueisha, the publishers of the Jump line of comics, where -related paraphernalia and games are put on display as well as stage events and announcements. It's also a good event for companies that have -related things out to display some of their own non--related things.
Jump Festa, Shonen Jump's own convention, is a mix of manga, anime, video games, and card games. There are various events, art galleries, game booths, card tournaments, Jump-themed food stalls, and endless amounts of stage shows. But no matter where you look, there is one thing that permeates the entire show floor: an…
I guess you could say that I'm a fan of One Piece. I don't follow the magazine on a week to week basis in , but I've read all of the manga books. I haven't seen much of the anime, but I've watched a good deal of the movies, including . I haven't played most of the -based games, but one I did play was . The game was…
Announced back during this year's Tokyo Game Show, Kingdom Hearts 1.5 HD ReMIX is a PS3 HD remaster of and its sequel —as well as a collection of CG cutscenes from . Today at Jump Festa 2013 in Japan, was able to get some hands-on time with the first playable demos of the games in this highly anticipated HD collection.