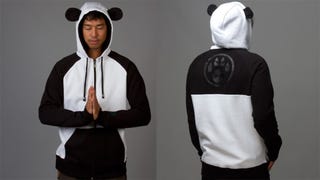 The next World of Warcraft expansion is only a week away, which gives me something to do until November, when the official Mists of Pandaria panda hoodie I just ordered from Jinx arrives.
Coming in September from official Minecraft online retailer Jinx, this huggable depiction of the game's most familiar foe does, at first, resemble the Incredible Hulk's junk.
Every year geek clothing companyJinx uses BlizzCon as an excuse to roll out their latest and greatest Blizzard-inspired fashions. This year's Demon Hunter coat and Tyrael hoodie make me want to be a better, thinner man.
World of Warcraft merchandisers supreme Jinx have unleashed their new winter line just in time for Christmas, complete with the return of the talking, hand-humping murloc plushies.