Watch Journey creator Jenova Chen's DICE talk about how to make emotional games, including that emotional fan-letter.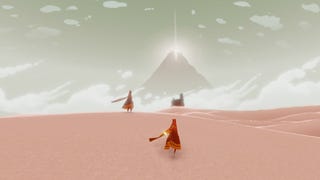 Last year's standout PS3 game Journey was an emotional experience for many. That was certainly the case for Sophia, a 15-year-old who wrote the above letter to one of the game's creators, Jenova Chen, about how Journey helped her cope with the loss of her father.
From his mouth to the screen, as seen in the PlayStation blog interview with thatgamecompany's Jenova Chen about the artistic inspirations for his upcoming PlayStation Network game Journey.
Sorry, Nathan Drake, but you and your fully-tucked shirt are not the best thing I saw this week for the PlayStation 3. That honour goes to this trailer for Journey.
flOw and Flower developer thatgamecompany is making something new, Journey, a game that's about singing, sand, hiking, cloth, surfing, astronauts and feeling small. And, in a radical departure for the team, it uses two whole buttons.
Composer Austin Wintory has always wanted to adapt his score for PSN game flOw for live performance by an orchestra.
"Everything is intense the first time you experience it," says Jenova Chen, the 27-year-old creative director at Santa Monica-based studio ThatGameCompany.
flOw is one of those interesting little games that keeps on kicking (it's certainly made the rounds at this point) — it's spawned a lot of interest and discussion since its first appearance. Brandon Sheffield sat down with Jenova Chen (flOw designer and co-founder of thatgamecompany) at this year's GDC to talk about…