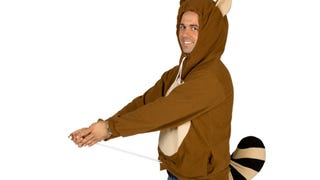 Maybe it's me. Maybe it's the model's gleeful pose. Or maybe it's the waggling tail. Whatever the case, this hoodie from 80s tees, is kind of weirdly off-putting.
The next World of Warcraft expansion is only a week away, which gives me something to do until November, when the official Mists of Pandaria panda hoodie I just ordered from Jinx arrives.
Check out these awesome Mass Effect hoodies, designed by deviantART user lupodirosso earlier this week.
DeviantARTist Brendon Phillips' Mega Man-inspired hoodie designs make me wish I could sew, as seen at DeviantART via Capcom Unity.