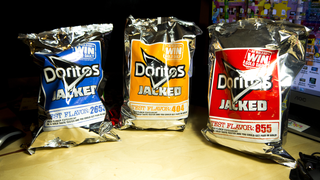 Earlier this year Snacktaku reviewed the three mystery flavors released for the Doritos Jacked line of corn chips. Now the names are officially revealed, and my favorite is retired in favor of my next screen name, "Spicy Street Taco".
Earlier this year I posted a list of five snacks I must eat in 2013, and on that list was a product from Frito-Lay that promised to shake up the status quo, challenge conventional snacking and fly in the face of more than 100 years of molasses-coated history. Cracker Jack'D, subtitled "Snacks with Impact" seemed like…
This rumor has bubbled on enthusiast sites and message boards since about April, but an official-looking PowerPoint floating out there in the wild suggests a promotion this July will combine Mike Fahey's two greatest loves: Skylanders and snack foods.