Speaking of dramatic shake-ups in League of Legends eSports, top European player Yellowstar just said he's leaving Fnatic to go play in another region. The entire EU region is susceptible to a talent-drain this year as investment in eSports increases in the U.S. and China and teams there offer greater opportunities.
Europe's best League of Legends team just lost two of its star players. This afternoon Fnatic announced that Heo "Huni" Seung-hoon and Kim "Reignover" Yeu-jin, the team's top laner and jungler, are both leaving for "career opportunities in another region." No word on what region that is yet.
We're 15 minutes into the League of Legends World Championship games of the day, and it's already getting preeeeetty intense. Watch the Fnatic vs. EDG best-of-five matchup on YouTube (above), Twitch, or Azubu. Oh, Riot's LoL Esports site. GL HF!
The Daily Dot revealed yesterday that rockstar Swedish League of Legends player Martin "Rekkles" Larsson is joining the European pro team Fnatic. Transers happen all the time in eSports, of course. What made this one interesting was that Rekkles had just left Fnatic last November. The prodigal son returns!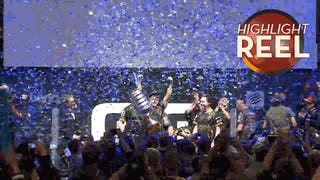 We've rounded up some of the best highlights from the past few days in the gaming world and put them all in one place for you. Today, the winners of the ESL One Counter-Strike: GO tournament, and more!