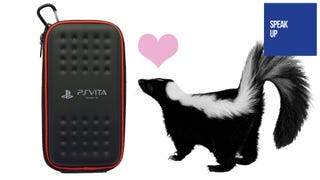 Those pretty plastic peripherals can be painfully pungent, as commenter Hongo found out after his recent purchase of a place to keep his PS Vita. It's Stink Up on Kotaku!
If you thought Metal Gear Solid 3DS looked ugly, get a load of what Sega and Griptonite are doing to Shinobi. Maybe they'll look better in 3D?
Eating the undead isn't just for Japan anymore. From the makers of Zombie Blood energy drink comes Zombie Jerky Dead Meat Chunks, "the first slimy, green, beef jerky packaged in a bright-orange biohazard specimen bag." I feel sick.