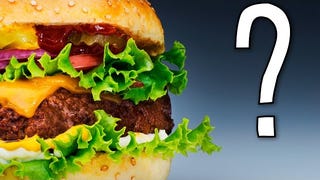 One of America's biggest eating days is almost upon us, but before we eat all of the things, how much of the things can we really eat? Vsauce3's latest video has the answer to this and a smorgasbord of other eating inquiries.
Created roughly 4,000-5,000 years ago in China, the earliest versions of something like chopsticks were used for cooking (they're perfect for reaching into pots full of hot water or oil) and were most likely made from twigs. While it's difficult to nail down a firm date, it would seem it wasn't until around 500-400 AD…
Yes, commenter GeshGav returns to Speak Up on Kotaku for the second day in a row, this time asking one of the most important questions you can ask about a video game character — would you eat it?
"Women weaken legs," said the famous trainer Mickey Goldmill. So does a sledgehammer to the kisser. Fight Night Champion's going to bring a more sophisticated stamina system that you'll need to know to keep from being a two-punch chump.