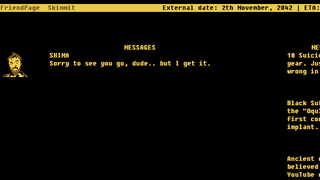 At face value, Killing Time at Lightspeed looks like a browser-based text adventure, or perhaps some sort of dated social-media app you found on a phone you left in a drawer and forgot you had. But at its heart, KTAL is much more than that, using all the best elements of text-based adventures to bear a point-and-click…
Today's genre books are full of future dystopias, which only have one weakness: teenagers. And everybody knows that most dystopias are kind of contrived. But here are 10 lessons from real-life rebellions against repressive regimes, that we wish the creators of fictional dystopias would pay attention to.
Earth has seen much better days, and science says it's largely humanity's fault. This week, the antarctic ice sheet's eventual collapse was declared "unstoppable" by research teams. How might we survive unprecedented rises in sea level? No one's sure, but games like BioShock and Brink may have the right idea.