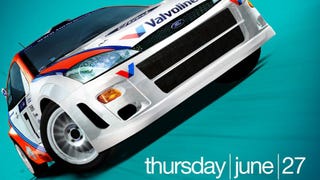 We've seen plenty of games trying to achieve photographic realism, but how often do we come across attempts to make real life look more like a game? The folks over at Codemasters have done just that, with their latest tie-in video for last month's racing title Dirt 3.
Darksiders II. Tekken: Wii Successor.Assassin's Creed. Dirt. Ghost Recon: Online. Aliens: Colonial Marines. These are some of the hardcore games coming to Wii U—which Nintendo showed off in its E3 press event.
Ah, Monaco. A charming Principality, famous for its azure harbors, Grace Kelly and...car rallies. Lots and lots of car rallies. The folks over at Codemasters would like to invite you to this car-racing paradise in their newest gameplay trailer for Dirt 3, giving a glimpse of the title's Rallycross, Gymkhana and Head…
Dirt 3 due out Tuesday, will also include a single-use code to enable online access - a growing trend, if not the new norm, in console games with heavy online components. The "VIP Pass" also comes with a set of five vehicles, and it's free in retail copies. If you get a used copy of the game and the code doesn't work,…
Eyebrows were raised last night when a version of Dirt 3 was shown off costing $300. Well, turns out there may be a justification for that. Provided you like remote control cars.
Gymkhana, the "car rodeo" YouTube video phenomenon, will join the redoubtable Rally in DiRT 3 next year. Loosely described, gymkhana features a start and finish line and some obstacle to negotiate. Codemasters dropped several screenshots illustrating both modes today.