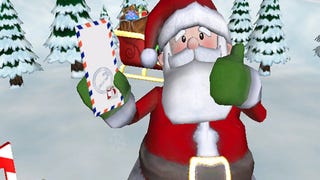 Destineer brings the holiday cheer with We Wish You a Merry Christmas, a collection of mini-games and activities that will surely help families get into the holiday buying spirit.
Bongfish's follow-up to the Xbox 360 snowboarder Stoked has players barreling down the perilous slops of K2, the second largest mountain in the world.
Last week Destineer quietly released Battle Rage: Mech Conflict, a $19.99 robot battler for the Nintendo Wii, and for some odd reason I picked up a copy. Let's play!
It's time for your lunchtime musical interlude, courtesy of this new trailer for Destineer's snowboarder Stoked, featuring the music stylings of pop punk band Quietdrive with "Deliverance".
Iron Chef America is unapologetically similar to Cooking Mama and Destineer is totally OK with that. "Cooking Mama is like cooking with your friends and family at home," said Lisa Mason, the game's lead designer. "We wanted to do things that home cooks don't do: fillet whole fish, quarter chicken. "The (TV) show is…
It looks like Shaun White may have a bit of competition. While Destineer's upcoming snowboarder Stoked wasn't built using the Assassin's Creed engine (and it doesn't sport a Wii version with Balance Board support), it does have some things going for it. First off, it was created with the help of snowboarding movie…