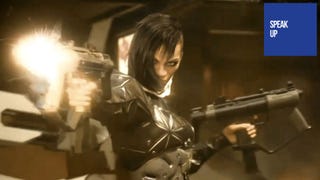 Some people love boss fights; others dread them. Commenter TheBlackHole25 is in the latter camp, and he'll explain why in today's Speak Up on Kotaku.
Every couple of weeks, we recommend some of the best games on the Xbox Live Indie channel. These are the games on the fringe of the Xbox 360 platform, made by average Joes and indie dreamers. They're peer-reviewed, not Microsoft-approved and thankfully they're not all about posing your Xbox Avatar or giving dating…
Snoop Dogg and Zac Efron spent last night at the H.O.M.E. Foundation's STIKS Celebrity Video Game Challenge in Hollywood, where Efron battled fellow actor Michael Strahan in Madden NFL 11 for the I'm Too Young For This! Cancer Foundation.
It's Friday afternoon, and you've got a bit of time before work lets out? Here, take this. It should keep you nice and occupied until Monday. As seen on DeviantArt.
Video game record keeper Twin Galaxies has posted the first official record scores for Wii Sports Resort. Have you got what it takes to oust the champions?
Harmonix's Dan Teasdale wants to make sure that folks attend the "History of Harmonix" panel at PAX this weekend so badly that he's narrowly avoided calling down a world of hurt upon himself in the process. He's issued challenges to various members of the media, the development community, and his game's chief rivals…
I do love Lost Garden's prototyping challenge, though I will never in my life prototype any game, even simple and super cute ones. However, I always love seeing what other people come up with — it's an interesting exercise in observing the design process with playable prototypes. The latest is a cute idea that takes…
The latest GameCareerGuide "Game Design Challenge" is to rename Katamari Damacy: if you had been working for Namco in 2004 and they had decided to give the game a new title, what would you have suggested? "Think up with something snappy that will appease the localization department, designers, and artists, who will…