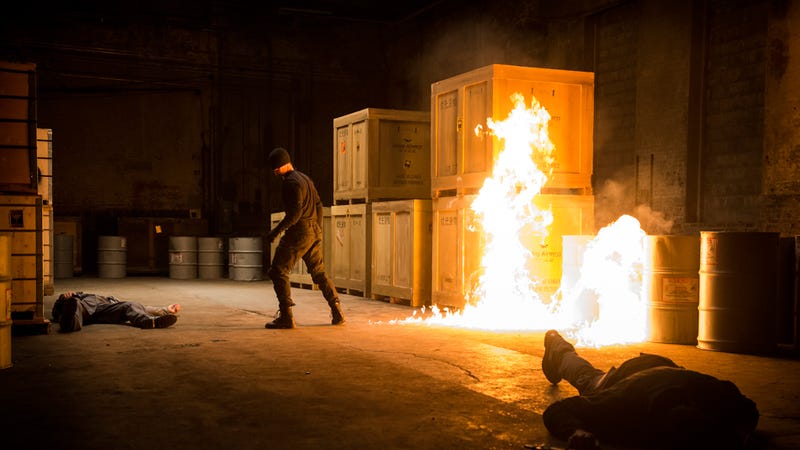 We're awash in live-action adaptations of comic books lately, including several TV shows. But Netflix's new Daredevil series still feels like something special. It pulls no punches, never winks at the audience, and perfectly captures the feel of the best Daredevil comics. Here's our spoiler-free review.

A great story has lots of layers, and a rich backstory. When you only see part of the picture, you might reach a snap judgment about what's going on — but then you see events from years ago, that make you rethink everything. Here are 10 flashbacks that turn your understanding of a story upside-down.
Science fiction and fantasy television has produced plenty of bizarre or terrible episodes. But sometimes, an episode isn't just bad, it's world-breaking — because it introduces plot holes or character traits that would kill a show. Here are 10 episodes that everybody had to pretend just didn't happen. (Two of which…
We love happy endings. In fact, a big part of why we devour stories is to escape from reality, where endings are by definition unhappy. And a really wonderful happy ending can make you turn your bullshit detector all the way off. Here are 10 somewhat contrived happy endings we can't help falling in love with.
There is a plague of remakes sweeping across the land right now. While some remakes are decent or worthwhile, a lot of them are pointless at best and travesties at worst. And a lot of them are clearly terrible ideas. Here are 10 movie remakes we are overjoyed never got made.
Pop culture is a never-ending source of wonder and amazement. We're seeing some really top-notch, innovative writing across every medium right now. But there's also a lot of tired, warmed-over stuff, that feels copy-pasted from script to script. Here are 20 screenwriting moves we'd be happy never to see again.
Today in Awesome Video Game Concept Art That Makes Me Wish LucasArts Was Still Alive, here are some shots by artist Andrew Scaife, who visualized the iconic Joss Whedon series Buffy The Vampire Slayer as a point-n-click adventure game.
Traditionally, it's damsels who need saving, what with their pretty dresses, bosoms and emotions. Men, on the other hand, are theoretically strong and self-sufficient… which is why it's so satisfying whenever these tables turned. Here are seven dudes who would be dead without their infinitely more competent damsels.
Authors, showrunners, directors and horrible people. They kill characters we love constantly, just to make us feel emotions, or they give us awesome characters and then plan to get rid of them for no reason! Luckily, sometimes fans can come together and keep these bastards from destroying the fictional people we love…
Some villains strive for wealth and power. Some villains strive for glory. But a surprising number of villains are motivated solely by their tangled relationships with the hero. These are love-hate relationships, in which the villain just wants to impress the hero or spend quality time together. Here are the 12 most…
Most heroes get a facelift every decade or so, to keep them from showing their age. The longer an epic saga goes on, the greater the chances you'll see everything start over from scratch. But not everybody succumbs to the Etch-a-Sketch urge. Here are 10 epic storylines that have never had a reboot. Ever.
Nothing says "epic destiny" like a huge prophecy. When a hero hears a mystical-ish person intoning that he or she is destined to set everything right, that's when adventure comes a-calling. But sometimes these things don't quite work out. Here are 10 heroic prophecies that weren't quite what people had hoped.