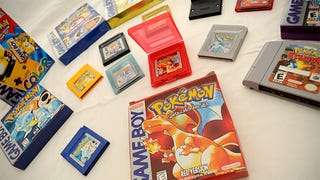 No, I cannot compete with the people who have somehow collected every piece of Pokemon merchandise on the planet. I often struggle to remember what Dark types are strong against. And honestly? I left the game sometime after Ruby and Sapphire, never to truly come back to it until Pokemon X and Y.
While announcing its early 2010 software lineup this morning, Nintendo also announced a February 14th North American release date for the pink and blue Wii remotes, giving the significant others of Nintendo fans the perfect Valentine's Day gift idea.
Konami was staging tournaments and demos for their Blue Dragon Role Playing Card Game at their booth. Stalking the aisles was this Shu mascot, which did nothing but startle everyone.