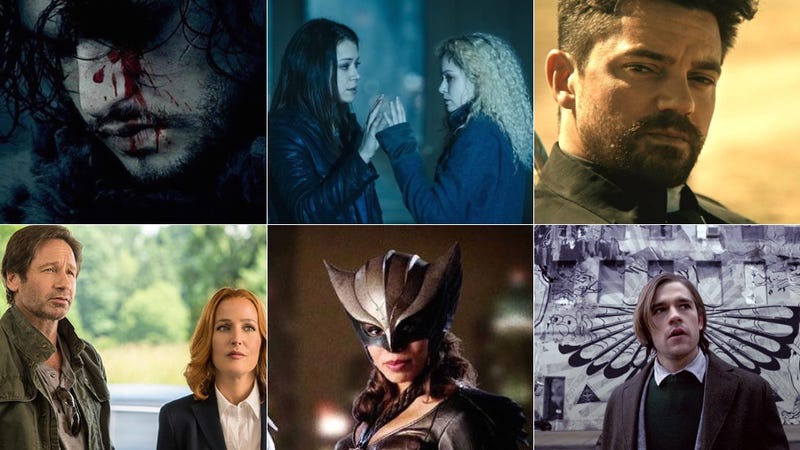 This year is full of great science fiction and fantasy TV series. Actually, 2016 is too full. Seriously, check out how long this list of new, returning and potentially premiering shows due out over the next 12 months is. When are we going to get a chance to leave the house and watch all those great movies, or read all…
Doctor Strange will be dark and psychedelic, according to its Director of Photography. Sleepy Hollow will try to bring the focus back on Abbie and Ichabod this season. Plus, Clark Gregg teases Coulson's prosthetic hand on SHIELD, and the new Nightmare on Elm Street reboot gets a writer. So many spoilers!
The conventional wisdom says that the past 10 years have been a bad time for science fiction on television. Fantasy has been on the upswing. Space opera all but disappeared. Science fiction shows get canceled all the time. But a ton of great science fiction has been created since 2005. Here are 15 shows that changed…
Pop culture is a never-ending source of wonder and amazement. We're seeing some really top-notch, innovative writing across every medium right now. But there's also a lot of tired, warmed-over stuff, that feels copy-pasted from script to script. Here are 20 screenwriting moves we'd be happy never to see again.
Could Marvel make a Captain Marvel movie instead of a solo Black Widow film? Rachel McAdams leaves Passengers. Terminator: Genesis casts a major supporting charater. Peter Dinklage discusses Tyrion in Game of Thrones season 4. Plus, Kevin Feige explains magic in Doctor Strange and a building-sized Captain America …
Authors, showrunners, directors and horrible people. They kill characters we love constantly, just to make us feel emotions, or they give us awesome characters and then plan to get rid of them for no reason! Luckily, sometimes fans can come together and keep these bastards from destroying the fictional people we love…
Everybody knows the theme of "misfits coming together to create family" is important to Joss Whedon — so it should come as no surprise that Agents of SHIELD, his new show, is heading in that direction. We talked to showrunner Jeffrey Bell, and he told us how we'll see more sides of Agent Coulson and his gang.