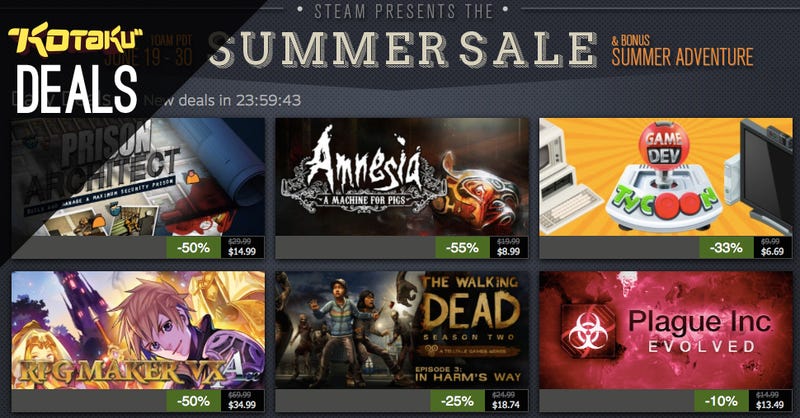 Steam Summer Sale Day Two is upon us, bringing with it discounts on The Walking Dead: Season 2, Prison Architect, and more. We'll be updating with our impressions, and we really want to hear yours.
Our picks: Walking Dead Season Two, Prison Architect, Game Dev Tycoon, A Machine For Pigs, Pixel Piracy...
Updated, more picks: Risk of Rain, Gunslinger, Papers Please
Check out Kotaku Deals every day at 12:45pm ET for the best deals in gaming, or join us for Kinja Deals every morning to get all the best deals on the Internet in one place.
---
There are a ton of great pre-order deals happening at the moment, so let's round them up.
pre-order The Last of Us Remastered ($50) | Amazon
pre-order Halo: The Master Chief Collection and get a $10 Xbox gift card
$5 credit with select digital game pre-orders on Amazon
pre-order Sid Meier's Civilization: Beyond Earth steam key with $5 credit
pre-order Professor Layton vs Phoenix Wright Ace Attorney to save $8
pre-order EA Sports UFC and get UFC: Best of 2013 free
pre-order Evolve with $5 credit | Amazon | Includes Monster Expansion pack
pre-order Halo 5 and get $10 in Best Buy rewards
pre-order Middle Earth: Shadow of Mordor and get $10 off on PS3/360
pre-order Sunset Overdrive from Microsoft to grab a $10 Xbox credit.
preorder Lara Croft and the Temple of Osiris plus $5 Amazon Video Game Credit ($18) | Amazon
Get 20% off with code A5D6OC-SSP45E-FYUBTA at Green Man Gaming | Stacks with GMG Credit | Includes some pre-orders
pre-order Persona Q: Shadow of the Labyrinth: The Wild Cards Premium Edition
The Far Cry 4 Collector's Edition is also up for pre-order now.
The Order: 1886 Premium Edition | also available in Collector's Edition
Assassin's Creed Unity Collector's Edition
---
Here's a $350 PS4, and since it's sold through eBay, a lot of you should be able to avoid sales tax. [PlayStation 4, $350 with code CCNVIXQ214]