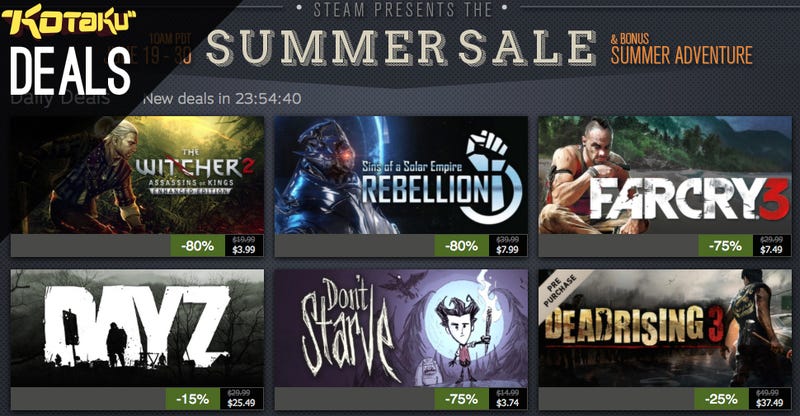 If countless gamers are holding out for the Steam Summer Sale to stock up on games, then what we're really looking for from it are unprecedented prices. That wasn't the case last year, so let's take a look at 2014's offerings. As always, you are best served holding out for the flash sales that cycle every 8 hours.
Updated 10:15pm ET:
Looking at the front page, $4 for Don't Starve and $7 for Far Cry 3 are standard deal pricing, as are most of the prices in that set of 9. However, you obviously can't go wrong with The Witcher 2: Enhanced Edition for 4 bucks, and we love seeing pre-order discounts like $37 for Dead Rising 3 on here.
Our picks: Don't Starve, Witcher 2 or Witcher 1+2 Bundle, Dead Rising 3, DMC, Hotline Miami, XCOM and The Bureau Bundle
Check out Kotaku Deals every day at 12:45pm ET for the best deals in gaming, or join us for Kinja Deals every morning to get all the best deals on the Internet in one place.
---
There are a ton of great pre-order deals happening at the moment, so let's round them up.
pre-order Halo: The Master Chief Collection and get a $10 Xbox gift card
$5 credit with select digital game pre-orders on Amazon
pre-order Sid Meier's Civilization: Beyond Earth steam key with $5 credit
pre-order Professor Layton vs Phoenix Wright Ace Attorney to save $8
pre-order EA Sports UFC and get UFC: Best of 2013 free
pre-order Evolve with $5 credit | Amazon | Includes Monster Expansion pack
pre-order Halo 5 and get $10 in Best Buy rewards
pre-order Middle Earth: Shadow of Mordor and get $10 off on PS3/360
pre-order Sunset Overdrive from Microsoft to grab a $10 Xbox credit.
preorder Lara Croft and the Temple of Osiris plus $5 Amazon Video Game Credit ($18) | Amazon
Get 20% off with code A5D6OC-SSP45E-FYUBTA at Green Man Gaming | Stacks with GMG Credit | Includes some pre-orders
pre-order Persona Q: Shadow of the Labyrinth: The Wild Cards Premium Edition
The Far Cry 4 Collector's Edition is also up for pre-order now.
The Order: 1886 Premium Edition | also available in Collector's Edition
Assassin's Creed Unity Collector's Edition
---
The BenQ 1070 is an awesome projector, and today it's marked down to its lowest price ever. Curious about replacing your TV with a projector? Lifehacker has a great guide to get you started. [BenQ 1070, $730]