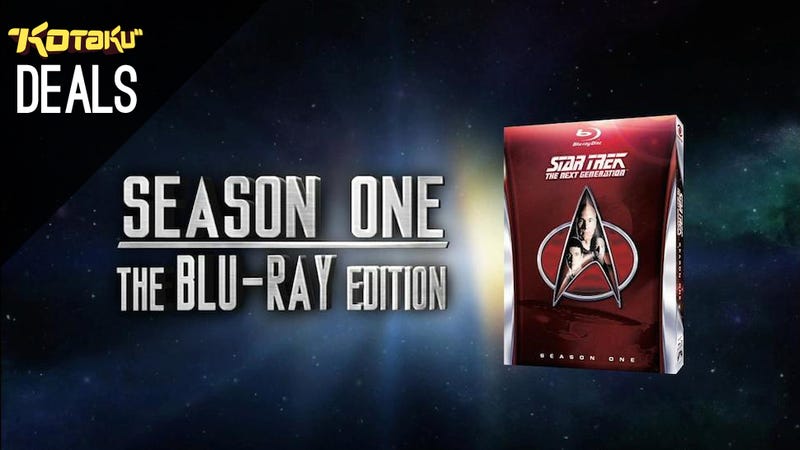 Time to boldly pay less than any man one has paid before. The first five remastered seasons of Star Trek: The Next Generation on blu-ray are all discounted today, hitting some of their lowest prices so far. It's going to be a long long time before these sets ever become what we consider cheap, so grab them while they're within reach. [Amazon]
---
Squeeze every drop of goodness from Joss Whedon's Firefly universe with these Serenity graphics novels, marked down to around $6 each today only.
---
Announced back in 1999 (zing!), the HD remake of Final Fantasy X and X-2 finally ships tomorrow for Playstation 3 and Vita. Pre-orderers of the Vita version will get 3 Art Cards. In spite of being a remake and a pre-order, Final Fantasy X|X-2 HD was the 13th most popular game of 2013, as purchased by you. I started writing this to let you know it was your last chance to get the limited edition, but that's gone, so now it's just a reminder. [Amazon]
Update: Newegg has it with a $5 gift card included.
---
In addition to the Humble Weekly Sega Bundle, the Humble Store also just launched a sale on everything Sega.
---
Disney's Frozen hits store shelves tomorrow, and you can pre-order the blu-ray today for $20. [Amazon]
---
---
If you own a phone, tablet, or laptop, there's a really good chance that Griffin makes cases and accessories for it. Today only, they're offering 20% St. Patrick's Day savings sitewide with promo code GREEN20.
Pictured Above:
20% Off Sitewide at Griffin | Promo code GREEN20
---
You probably know this by now, but if you want an SSD, Samsung's 840 series models are the ones to beat. Today we have a couple of great sales on high capacity models.
---
You don't see IPS monitors for under $100 very often. Like, ever.
---
Monoprice's 5.1 channel home theater speaker system is one of tech's biggest bargains at $91, but today, you can get the entire set for only $75 from Rakuten. If you have even an inkling to set up surround sound in your home, this is a no brainer. If you're a frequent Rakuten shopper, be sure to use promo code SUPERTECH for some extra points as well.
---
SONOS products rarely go on sale, but today on Amazon, you can get up to $40 in store credit back when you purchase select speakers and accessories.
---
Starting April 17, Amazon is raising the price of Amazon Prime by $20 per year, up to $99. Even at the new price, it's still the best deal in tech, but non-members can lock in a year of the service at $79 if you sign up now.
If you are already a member, and your subscription won't lapse in time to re-up at $79, there is a workaround to secure another year.