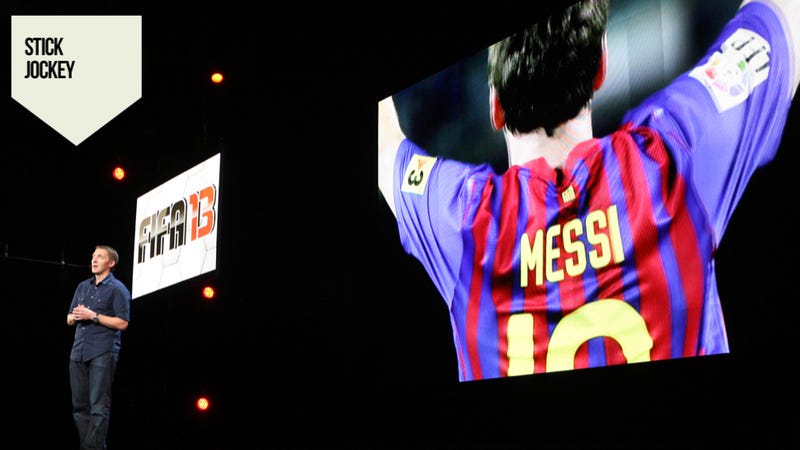 Covering E3 always felt like going to a midlevel bowl game for me. It's a salad of over-produced photo opportunities with big props, costumed actors and nonplussed celebrities, and when you do get one-on-one time with the real players, they're on heavy guard to say nothing but the right things before the big game.
Every time I left Los Angeles, I felt like right as I figured out how to cover the show, the thing was over. The first two days are a track meet of nonstop showcase events from publishers and console makers. The next two days are a marathon of booth tours that, if plotted on a map, your path would look like Billy walking home from school in the Family Circus. A lot of the breaking news of the event ends up being written away from the show floor, anyway. That's for previews and impressions.
I won't be going to E3 this year but I can still keep an eye on it, the same as any other sports fan. We can even watch it together. This is what I'll be looking for from the comfort of my home.
EA Sports
Sports' biggest publishing label usually gets about a 10-minute segment to itself on stage at the Orpheum Theater. (It will be tomorrow from 4 to 5 p.m. You can watch it here.) EA Sports already has sent the message that this E3 will be about Madden, FIFA, NBA Live and its new UFC game. I'm sure NCAA Football and NHL will be playable in the Electronic Arts booth, but as neither will have any presence at the launch of the next-generation consoles, I don't expect to hear much from them. NCAA is basically done, anyway; it ships 32 days after E3 is over.
UFC and NBA Live have the potential to show the most of the new hardware's capabilities. As neither will release before November, they're also the most likely to show little more than pre-rendered footage. A news release said E3 attendees will "experience next generation sports titles in the EA Sports Ignite Lab," referencing the name of the new game engine. That sounds, at best, like a behind-closed-doors hands-off demo to me.