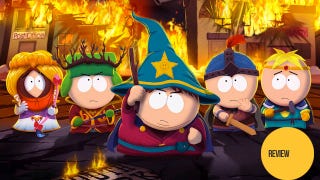 I wish I could spend this entire review talking about how South Park: The Stick of Truth is one of the funniest games I've ever played.
I wish I could stick to telling you how the story feels like one 10-hour episode of South Park; how the world is a blast to explore; how the combat blends the best parts of Paper Mario with the crude-yet-smart humor that has made South Park so appealing over the years.
But Stick of Truth, out Tuesday for 360, PS3, and PC, is a game marred by bugs and technical issues, and it is impossible to separate the art from the faulty product surrounding it.
During the ten hours I spent playing Stick of Truth, I ran into dozens of glitches ranging from minor to major. Sometimes my main character would pop in and out of cut-scenes. Sometimes the music would randomly stop playing during boss fights. Once I loaded up an old save file and learned that my newer file—saved manually, not via an auto-save that might have been overwritten—had suddenly disappeared.
Worst of all, playing the game on Xbox 360 led to constant stuttering that made the whole game feel like one turbulent airplane ride. I wanted to take a Dramamine after playing.
I captured some footage to show you what it's like. Note the major stutters at 0:04, 0:11, etc., and the minor stutters throughout. That's not YouTube. It's the game.
Isolated these stutters aren't so bad, but when they happen every few seconds, they become unbearable. I couldn't walk anywhere in Stick of Truth without feeling like I was sitting through an earthquake. That's on Xbox 360, with my game installed to the hard-drive, and the day-one patch installed. Your experience may vary, and some people might not even run into this stuttering—I asked a few other reviewers, and only one had run into the same problem—but for me this was a critical flaw.
The PC version runs more smoothly, but has its own technical issues. Kotaku's Kirk Hamilton couldn't get through one mid-game cut-scene without his game crashing. He had to skip it. Other PC reviewers have also reported save glitches and other bugs, and one reviewer playing on PS3 told me he couldn't load out of a boss battle. Playing Stick of Truth felt like walking through a china shop; I was constantly worried that something would break.
UPDATE (4/25/14): Nearly two months after release, Stick of Truth has seen a couple of patches on both console and PC, but it's still full of bugs. Still, even though it doesn't seem like many of the technical issues I ran into will be fixed, the game is good enough to recommend. We've changed the verdict from a NOT YET to a YES. (Read my full explanation for the swap here.)
It's a real shame, because Obsidian has created something special here. Not only are the writing and voice work top-notch—as you might expect from anything devised by South Park creators Trey Parker and Matt Stone—the game itself is just straight-up satisfying. Everything is very quick—combat, dungeons, cut-scenes—and outside of a few annoying QTEs, nothing ever drags.
Stick of Truth is also full of South Park references ranging from obvious (Kyle's Mom Is A Big Fat Bitch) to obscure (the Mexican Staring Frog from Southern Sri Lanka). Most of the game's items, enemies, and locations are taken directly from the show, and the voice acting is all impeccable. There are some great little touches, too—that South Park banjo twang plays whenever you load up a new save file, for example. Every character has a unique reaction to your physical and magical attacks. Cartman's mom is really into being hit.
In fact, hardcore South Park fans might not enjoy Stick of Truth as much as casual viewers or people who haven't watched it in a while. More than a few of the game's scenes and jokes are taken verbatim from the show, and you'll collect tons and tons of items that all reference episodes from South Park's 17-season reign over foul comedy. I imagine it's not easy to find the perfect balance between innovation and fan-service, but Stick of Truth leans a little too far toward the latter, even if there is something charming about getting to stuff your inventory full of South Park throwbacks like Sea People and Cherokee Hair Tampons. (Also, as you might expect, just about everyone in this town has a copy of Butters' best-seller, The Poop That Took A Pee.)
I suppose I should note that yes, I am a diehard fan of South Park, and I've seen all 247 (!) episodes over the past couple of decades. More casual fans might not notice all the references, or duped scenes, which actually makes Stick of Truth perfect for people who maybe used to like South Park back in the day, or just watch it when it happens to be on.
On the other hand, if you don't like crude humor, or fart jokes, or seeing... uncomfortable things, this isn't the game for you. Stick of Truth pushes the boundaries of taste to do some things that I've never seen in a video game before, all for the sake of comedy. And it works—several scenes left me sitting in front of my television, alone, giggling, wondering just how the hell they got away with some of this stuff. (Although I guess in some countries they didn't.)