S
You're heading to the store to get a PS4 right now, and need to know which games to get. (Keep your eyes on the road, please!) Or you're home, all set up, realizing you want more stuff to play. Or maybe you're suiting up for a battle in the console war, applying your facepaint and trying to remember which games will best help you make the argument for Sony's new console. We are here to help.
As with most new consoles, the selection of games on PS4 has been a bit limited. The selection of good games? Even more so. Then again, mere months into the console's lifespan, there are more good games than ever, with new contenders coming out every week.
Below, find a list of the games we recommend for Sony's machine. We will, of course, be updating this list regularly as more games are released for the PS4. We've capped the list at 12, and in the months and years to come will remove old games to make way for new, better entries. Here goes...
You're gliding over rooftops as a puff of smoke, jetting up from street-level through ventilation pipes before erupting off the edge of a skyscraper. Or, you're a neon blur sprinting up a downtown tower, a pink light dancing off the still-wet limestone. You push off the side, and as your leap reaches its pinnacle, you pause for a moment and take in the sunset. "Damn," you think. "This game has a lot of graphics."
That's Infamous: Second Son, an open-world superhero game from Sony and Sucker Punch, and surely one of the PS4's biggest early exclusive games. Designed solely for the PS4 and therefore able to fully take advantage of the PS4's graphical prowess, Second Son looks better than just about any console game out there—particles of light and flame flit outward as strobe lights and neon flashes dance in the darkness. Seattle has rarely looked so beautiful, or, when it comes time to fly across the city and do battle with evildoers, been so fun to navigate.
A Good Match For: Anyone who's ever wanted to leap off of the top of the Space Needle without fear of bodily harm, or run up the side of a building so fast that their body becomes a mere blur of light.
Not a Good Match For: The easily frustrated, or those who want a great story. Delsin's tale winds up being pretty straightforward and boring, and as thrilling as Second Son's super-powered city-traversal can be, the game's combat can be awfully annoying.
Read our review.
Watch it in action.
Study our tips for the game.
Purchase From: Amazon | Wal-Mart | Best Buy | Gamestop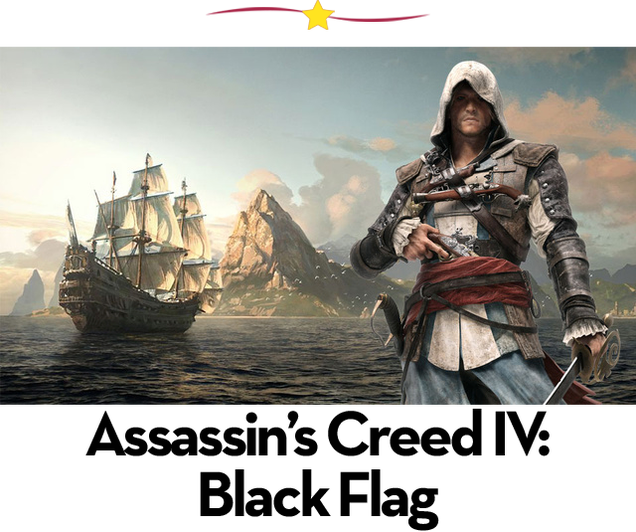 After years of changes both minor and major, the Assassin's Creed series had begun to feel in a rut. Finally this year, with the pirate-themed Assassin's Creed IV: Black Flag, the series has taken a major and unequivocal step forward. It doesn't lose all of the series' bad habits—hello, follow missions—but it improves many longstanding problems with better stealth, easier-to-navigate cities, and sidequests that actually feel like they help make your character more powerful. Best of all, it adds naval combat and a vast Caribbean overworld that make the game feel like, in the words of Luke Plunkett, "Wind Waker for grown-ups."
The next-gen versions of the game look incredibly good, particularly the PS4 version, which runs in beautiful 1080p resolution. Add on the excellent single-player expansion Freedom Cry and Assassin's Creed IV becomes a cinch to recommend, and easily one of the very best games on PlayStation 4.
A Good Match For: Pirate fans; history buffs; anyone who's ever wanted to pull up alongside a British frigate, grab a rope and swing from one deck to the other before fighting their way up the deck to take on the captain. Basically, anyone who's ever wanted to be a pirate.
Not a Good Match For: Those who demand precision controls. The on-foot controls in Black Flag are probably the best of the series, but they're still a far cry from where a third-person stealth/platformer should be. It's time for a crouch button, Ubisoft.
Read our review.
Watch it in action.
Study our tips for the game.
Purchase From: Amazon | Wal-Mart | Best Buy | Gamestop
Need for Speed: Rivals takes the trademark speed-obsessed arcade racing of the Need for Speed series and dials up the jerk-o-meter, casting players as either a street-racer or a cop out to ruin one another's fun. It's one of the most gorgeous next-gen games out there, offering solid performance and beautiful 1080p graphics, sure. But the real draw is the gameplay, that trademark sense of speed that'll have you whooping and fist-pumping as you pull off impossible jumps and daring escapes. Easily one of the most flat-out enjoyable next-gen games available, and a great showcase for new gaming hardware.
A Good Match For: Speed freaks, jerks, people who like ramping a car off of a cliff while pop music plays, anarchists.
Not a Good Match For: Anybody who wants a game with characters they care about. Everyone in Rivals is a jerk, and the dialogue is just so, so awful.
Read our review.
Watch it in action.
Purchase From: Amazon | Wal-Mart | Best Buy | Gamestop
We've seen superhero fighting games before, but nothing nearly as ambitious as Injustice: Gods Among Us. Where other games fumble for clumsy excuses as to why Superman and Batman find themselves at odds, Injustice features an extensive, multi-character, alternate reality story mode supported by a 12-issue comic book series. The planet shakes as iconic DC Comics powerhouses do battle, all using a balanced fighting system crafted by the studio responsible for Mortal Kombat 9. With an extensive challenge mode, numerous arcade-style battles and an extensive online multiplayer mode, getting 100% completion in Injustice is a Herculean task. The PlayStation 4 gets the Ultimate Edition of the game, packed with all of the game's downloadable content. The graphics might not be "next-gen", but there's so much satisfying content packed into Injustice: Gods Among Us the visuals hardly matter.
A Good Match For: Fighting game fans (it's currently the only fighting game on the PlayStation 4), comic book geeks, and every combination of the two.
Not a Good Match For: Pacifists, Superman purists.
Read our review.
Watch it in action.
Purchase From: Amazon | Wal-Mart | Best Buy | Gamestop
What happens when a 2D platformer suddenly, magically becomes 3D? Fez happens, that's what. The game captured quite a bit of attention thanks to the outsized behavior of its creator Phil Fish in the documentary Indie Game: The Movie. But after its actual release, it earned (hopefully) far more attention for its intricate design, lush art and lived-in vibe.
Fez somehow manages to be both supremely chilled-out and incredibly demanding; it hides secrets within secrets, and its most challenging puzzles took even the smartest players weeks to crack. And yet… if you want, you can just chill out next to a cute inchworm or a frog and watch the sun set. Despite the blocky graphics, Fez actually does benefit from the PS4's high-resolution visuals. Each sunset will fill your living room with beautiful colors; the ocean's shushing in the distance, beautiful music floats down from the sky, and the world just keeps on turning. Aaah.
A Good Match For: Puzzle fanatics, fans of retro game art and music, anyone who likes digging into the audio files of a game looking for hidden easter eggs.
Not a Good Match For: Anyone looking for an easygoing game—Fez may be visually lush and relaxed, but in truth it's a pretty challenging game.
Read our review.
Watch it in action.
Purchase From: Available digitally from the PlayStation Store.
Everything is awesome, you guys. Everything is cool when you're part of the team. The Lego team, that is—true to form, the game developers at TT Games have managed to take The Lego Movie's template and stretch it out to fit into a full-length video game. In the process, they've made things even bigger, weirder, and more subversive than the already big, weird and subversive film.
While the game's relatively brief campaign is a lot of fun, the real joy comes afterward, as dedicated players unlock the most unlikely hidden characters and replay levels in pursuit of more collectables and hidden surprises. Not only is The LEGO Movie Videogame the closest thing to an interactive Director's Cut of the terrific LEGO Movie, it's a wonderfully weird LEGO playset in its own right.
A Good Match For: Fans of The Lego Movie or fans of LEGO in general. This game has even more LEGO in it than the other LEGO games.
Not a Good Match For: People with dried up prunes where their hearts should be, people who don't really like LEGO games. At this point, you pretty much know what you're getting.
Read our review.
Read our review of the movie it's based on.
Watch it in action.
Purchase From: Amazon | Wal-Mart | Best Buy | Gamestop
Launch games have a unique responsibility. Not only do they have to be good games on their own accord, they've got to showcase the console for which they've been designed. Resogun is a great example of a game that executes both of those missions successfully. It's a solid twin-stick shooter that takes place in a chaotic, cylindrical map full of tons of different kinds of enemies. You'll have to protect helpless humanoids from this surge of colorful, bug-looking creatures. What makes Resogun stand out as a shoot 'em up—you know, besides looking gorgeous—is just how much control it gives you. There are so many ways to rack up points, all of which send you on a more aggressive path to kill enemies. Enemy choreography is damn near Broadway-worthy, too. Watching your foes bend and weave in groups is pretty, but it's also tied to gameplay, as you can learn to adapt to through practice. And when thousands of blocky bits are exploding all over the screen, the graphical power of the PS4 comes through, too.
A Good Match For: People who like to be challenged and enjoy a fast-paced, action-packed experience full of pretty colors.
Not A Good Match For: Gamers who get easily discouraged by death. Some of Resogun's boss fights hurt, and it takes a while to really get the hang of your abilities and learn how to use them to their fullest potential. There isn't much substance outside of obsessing over leaderboards and redoing levels for practice, so if that's not your thing you might get bored easily.
Read our review.
Watch it in action.
Purchase From: Available digitally from the PlayStation store.
Snake is back, and he's wondering if he kept you waiting. He may not be back for very long—the story bits of Metal Gear Solid V: Ground Zeroes don't feel substantial enough to earn the "V" in the title—but Snake is most certainly back, and he isn't messing around. Ground Zeroes is the kind of game that, as long as you're cool with what you're getting, can be a whole lot of fun—it's basically a medium-sized stealth chemistry set that lets players experiment with all of the new bells and whistles director Hideo Kojima will add for the upcoming Metal Gear Solid V: The Phantom Pain. More than an appetizer but less than a full dish, Ground Zeroes is still enough to entertain and satisfy most Metal Gear fans, and it looks and runs better on PS4 than on any other console.
A Good Match For: Stealth buffs, Metal Gear buffs, people who like playing things over and over until they get them perfect.
Not a Good Match For: The faint of heart, or anyone looking for the actual Metal Gear Solid V. As much fun as Ground Zeroes is, it is far too short to earn the "MGSV" in its title, and is less a proper entry in the series and more of an enjoyable stopgap/tech demo on the road to The Phantom Pain. It also features some horrific violence, much of it sexual, almost all of it directed toward its sole female character.
Read our review.
Watch it in action.
Purchase From: Amazon | Wal-Mart | Best Buy | Gamestop
Sometimes a name says it all. In the case of Don't Starve, the name says most of it, though it really could've been called Don't Die. Or maybe even Have Fun Dying! The game, which tells the story of one man (or woman)'s fight to survive a deadly, Edward Gorey-influenced fantasy world, is often brutally difficult. You may not always starve, but you will most certainly perish, and you'll perish a lot. But therein lies Don't Starve's appeal—like Minecraft before it, the game allows players to explore and gradually master the various interlocking ecosystems of a complicated and mysterious world. All of the smart and addictive design of the PC version is present in the PS4 version, and the controls translate well to a controller.
A Good Match For: People who like deep, uncompromising games; masochists, survivalists, anyone who wishes people's voices sounded like weird brass instruments.
Not a Good Match For: Anyone looking for a game they can easily sit down and have fun with. Don't Starve is a punishing experience that only opens up after hours of play, and the steep initial difficulty curve can be off-putting.
Watch it in action.
Purchase From: Available digitally from the PlayStation store.
Everyone likes Die Hard, right? What if instead of a dangerous skyscraper with a Japanese name, that movie had taken place on a dangerous island with a Japanese name? What if instead of John McClane with no shoes, it had starred Lara Croft with no sleeves? "Now I have a bow and arrow… ho ho ho." And so we have Tomb Raider, an action-minded reboot that forcefully injects new life into the beleaguered Tomb Raider franchise. The "definitive" next-gen version of the game is just that, a better-looking version of last year's already good-looking game.
A Good Match For: Bow-hunting enthusiasts, wolf-haters, anyone who wants a game that'll show off the graphical prowess of their new next-gen console.
Not a Good Match For: The squeamish, wolf-lovers, those who have already played the 2013 game. The Definitive Edition is lovely looking, but it doesn't add any new gameplay or feel all that different from the game that came out last year.
Read our review of the original and our thoughts on the Definitive Edition.
Watch it in action.
Purchase From: Amazon | Wal-Mart | Best Buy | Gamestop
Nightmare fans rejoice: Your game is here. Outlast is a nasty, often terrifying piece of work, a game that'll have you leaping back on the couch, crying out in fear and clutching the controller with every muscle in your body tensed. Its story, setting, characters… none of those things matter all that much, not when your character is hidden under a bed, peering through your camera's blurry infrared lens, hoping that the deadly psychotic who's been following you won't look down. Previously only available for the PC, Outlast has made the hop to PS4 without breaking a sweat, and while it's not the prettiest game on the system, it was never all that concerned with looks to begin with. Bonus: There may be no better game with which to take advantage of the PS4's streaming capabilities—the only thing more fun than fearfully shouting and cursing in your living room is inviting the world to watch you do it.
A Good Match For: Horror buffs, people who like having the shit scared out of them, anyone who hears that this game has a button for looking over your shoulder at whatever's chasing you and thinks "That sounds like the game for me!"
Not a Good Match For: The faint of heart. If you can't take some jump-scares and gore, Outlast will probably be a bit much for you.
Watch it in action.
Purchase From: Available digitally from the PlayStation Store.
It's difficult to describe the sheer joy of a heated four-player match of TowerFall Ascension—you kinda have to play it to get it. But rest assured, it is easily one of the most enjoyable local multiplayer games on any console, and a cinch to recommend for anyone with more than one PS4 controller. The game is incredibly simple—ammo and supplies are limited, and your character will quickly be scrambling to re-gather fired arrows and snag power-ups to get a fast leg up on the competition. There are few moments in multiplayer gaming as thrilling as when a skilled player leaps, grabs an incoming arrow out of the air, and fires it straight into an opponent. TowerFall Ascension is, to embrace the cliché, easy to pick up and very difficult to put down.
A Good Match For: Smash Bros. fans, those looking for a hectic competitive game to play in their living room. TowerFall is easily the most fun local multiplayer game currently available for the PS4, and is the latest in a growing (and welcome!) trend of games that channel Nintendo's storied Smash Bros. fighting series.
Not a Good Match For: Loners. TowerFall Ascension lacks online multiplayer, and while that makes sense—the game is clearly designed for local play and would lose a lot if you could play it against online opponents—it does leave solo players in the lurch.
Watch it in action back when it was an Ouya exclusive.
Purchase From: Available digitally from the PlayStation Store.

How has this list changed? Read back through our update history:
Update 4/14/2014: Our PS4 list has hit its 12-game ceiling, and we've added (and removed) more games than in any other single update so far. Rayman: Legends, LEGO Marvel Superheroes, Doki Doki Universe and Strider all clear out to make room for Infamous: Second Son, Metal Gear Solid V: Ground Zeroes, Towerfall: Ascension, The LEGO Movie Videogame, and Fez.
Update 3/10/2014: Two more games make it onto the list: Last year's fine Rayman Legends and the satisfying remake of the NES classic Strider. One more and we'll be at 12, after which we'll have to start cutting games to make new additions.
Update 2/14/2014: Our second update brings with it two games: The graphically enhanced Tomb Raider: Definitive Edition and the pee-your-pants-scary Outlast. Only three more additions before we hit our ceiling of 12 and have to start cutting games to make room for new ones.
Update 1/27/2014: Our first addition to the PlayStation 4 Bests list is Klei's excellent survival game Don't Starve, which brings the total number up to seven.

Want more of the best games on each system? Check out our complete directory:
The Best PC Games • The Best PS4 Games • The Best Xbox One Games • The Best Wii U Games • The Best 3DS Games • The Best PS Vita Games • The Best Xbox 360 Games • The Best PS3 Games • The Best Wii Games • The Best iPhone Games • The Best iPad Games • The Best Android Games • The Best PSP Games • The Best Facebook Games • The Best DS Games • The Best Mac Games • The Best Browser Games • The Best PC Mods