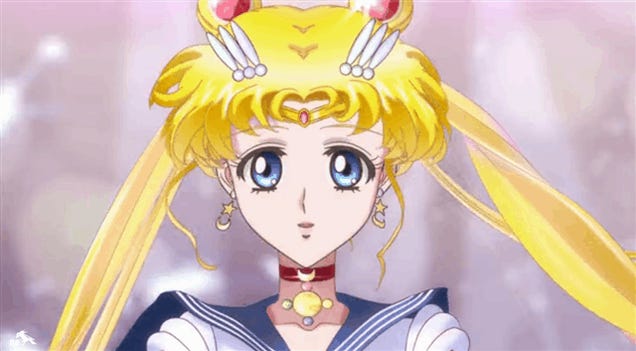 Now that the world has had a chance to watch Sailor Moon Crystal this weekend, everyone seems to have something to say about the new reboot. Some stuff is positive, which is unsurprising, given how beloved the franchise is. And some stuff definitely has a tinge of disappointment to it.
Regardless of how you feel about the reboot, one thing is clear: lots of people are watching. That's just how influential the franchise is. I found myself watching even though I wasn't that huge on Sailor Moon growing up.
Here's what the internet had to say about Sailor Moon Crystal.
The part on the new Sailor Moon Crystal where Usagi and Tuxedo Mask match on Tinder and he's like "sup" and she's like "I'm actually 14"

— Nick Sumida (@nsumida) July 6, 2014
I don't really like some of the changes they've made to the new Sailor Moon. http://t.co/3rDPpRNOHn

— Nick (@NickisNixed) July 6, 2014
We were so preoccupied with whether or not we could remake Sailor Moon, we never stopped to consider if we should.

— Jared Rea (@jaredr) July 5, 2014
Targeted ads: Watch Sailor Moon Crystal on hulu, get an ad for Kay Jewelers, the episode is about sapping teen energy with cursed jewelry

— Sophia Foster-Dimino (@hellophia) July 5, 2014
I can't believe the weird CG in the new Sailor Moon pic.twitter.com/59cmWbZ7TC

— Hey! You Can Do! ♥ (@CombotronRobot) July 6, 2014
I USED TO HAVE TO GET UP AT 7AM BEFORE SCHOOL TO WATCH SAILOR MOON. NOW IM WATCHING IT AT NIGHT IN MY UNDERWEAR. I LOVE THE FUTURE

— Elizabeth DeLoria (@elizabethdanger) July 6, 2014
GUYS this is literally a frame from the new Sailor Moon anime. I had to step through the opening and see for myself pic.twitter.com/Wci2csmn3x

— Persona @AX2014 D40 (@personasama) July 6, 2014
I'm spending my Saturday relishing in the feminism of the new Sailor Moon anime. pic.twitter.com/fF4pEgqaib

— Calvin (@aurosan) July 5, 2014
Sailor Moon Crystal needed more of this pic.twitter.com/rPBaeLg4zu

— Chris (@FortMax) July 5, 2014
Oh someone is still setting off fireworks guess they really liked new sailor moon too

— madeleine flores (@heymadeleine) July 5, 2014
The Sailor Moon reboot is amazing 😍🌙

— Mallory Toth (@malmal502) July 7, 2014
🌙 SAILOR MOON NIGHT 🌙 pic.twitter.com/M9MTy6lIVB

— victoria grace °॰ ✧ं (@fridayafternoon) July 6, 2014
Oh no the fucked up Jadeite they made him look way too cute pic.twitter.com/0shX6DuB98

— ベリル (@skullvania) July 5, 2014
— Patricia Hernandez (@patriciaxh) July 5, 2014
watched the1st episode of Sailor Moon Crystal. Trying to remind myself that it CREATED/popularized all the tropes that make it seem generic.

— John Funk (@cantfakethefunk) July 7, 2014
sorry but new sailor moon

i feel nothing

— ° Will Wiesenfeld ° (@BATHSmusic) July 6, 2014
I've got.... sailor moon "feels"

— ✨Σ(⊙▂⊙;) Cassie✨ (@FerretParty) July 5, 2014
From our own comments section: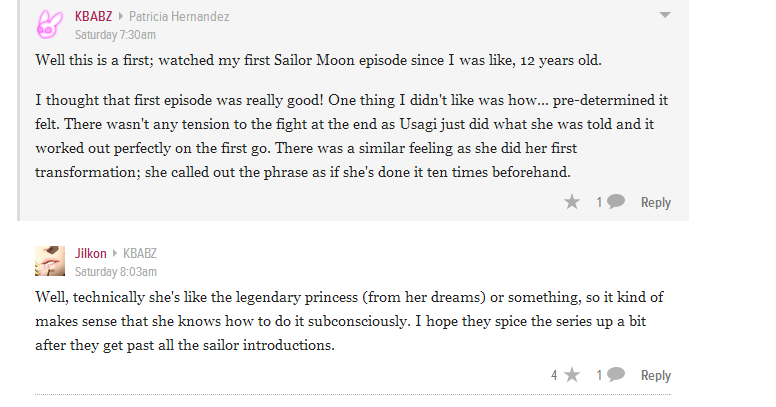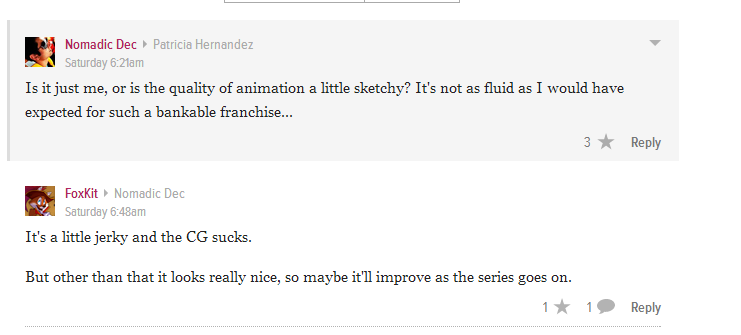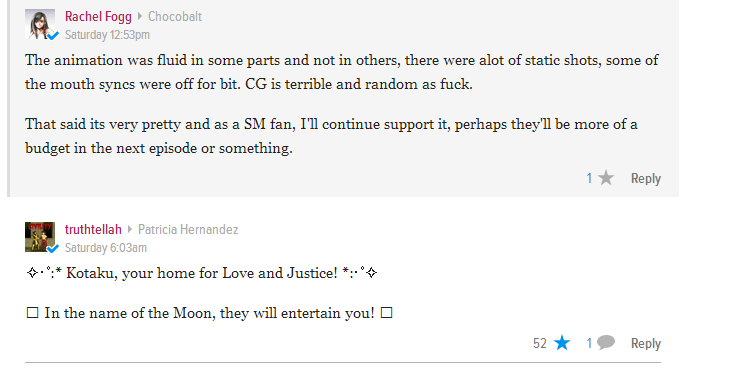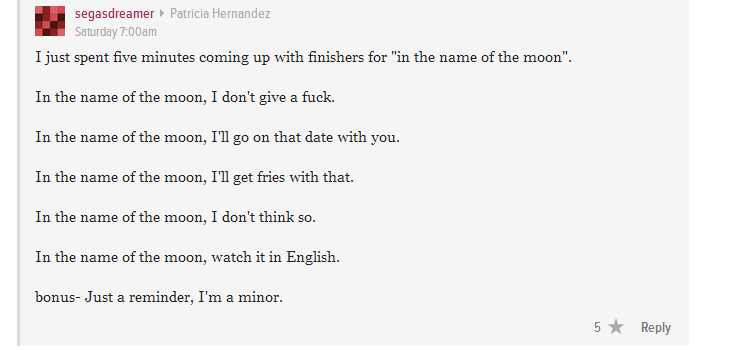 From the Sailor Moon Crystal page on Hulu:

Naturally, some folks couldn't help but draw up fan-art—a common theme involved comparing the new Usagi to the old Usagi: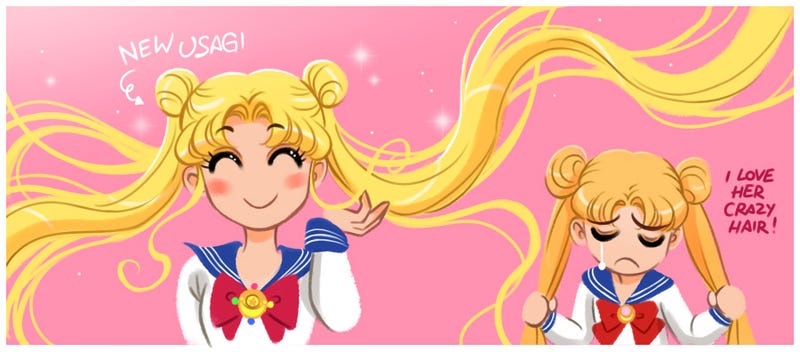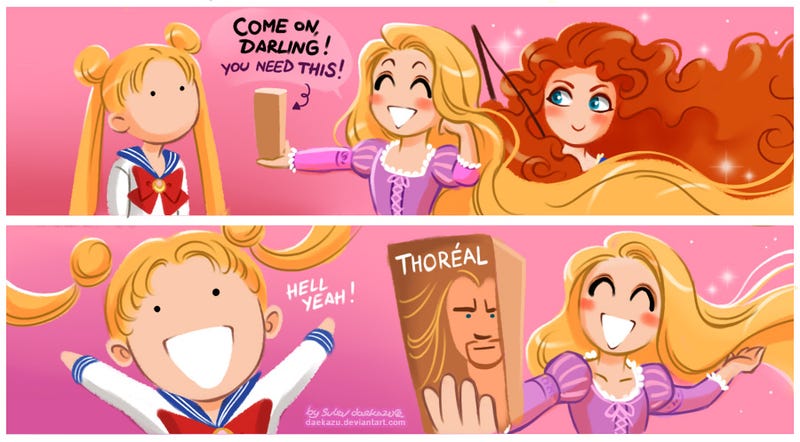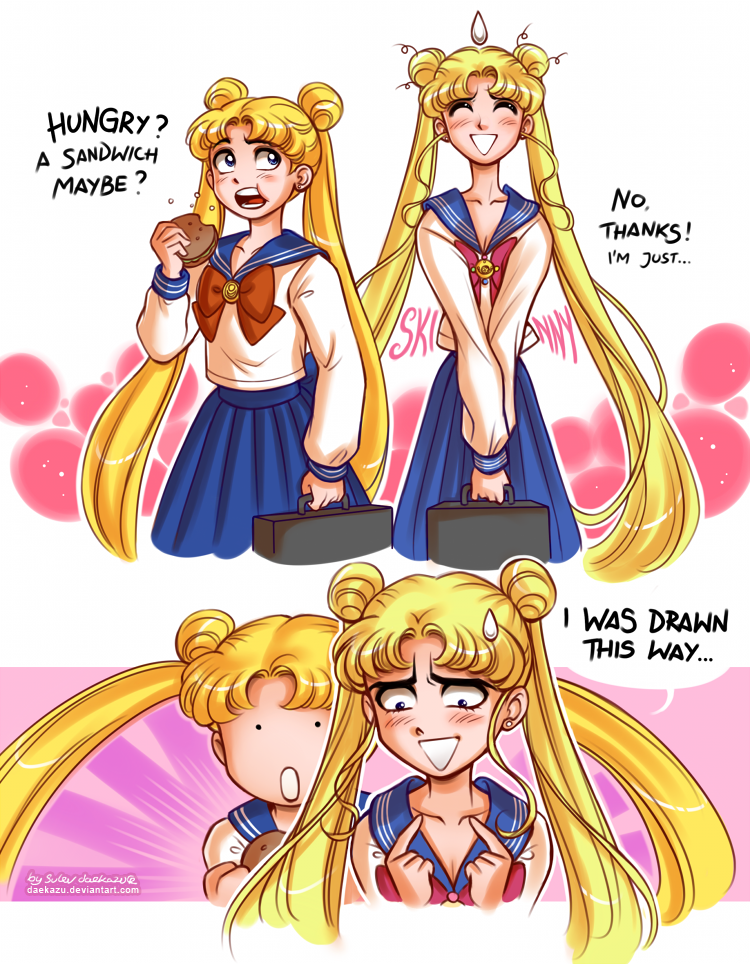 Someone even did the painstaking work of comparing frames for certain characters from the old and new Sailor Moon anime.
One of the biggest subjects had to be the animation—particularly its quality, and the range it afforded the anime. Most folks seem to agree that the animation for Crystal seems poor, which is unfortunate.
Getting more granular about it, Usagi's expressions were a point of contention for some of the fandom:
VERSUS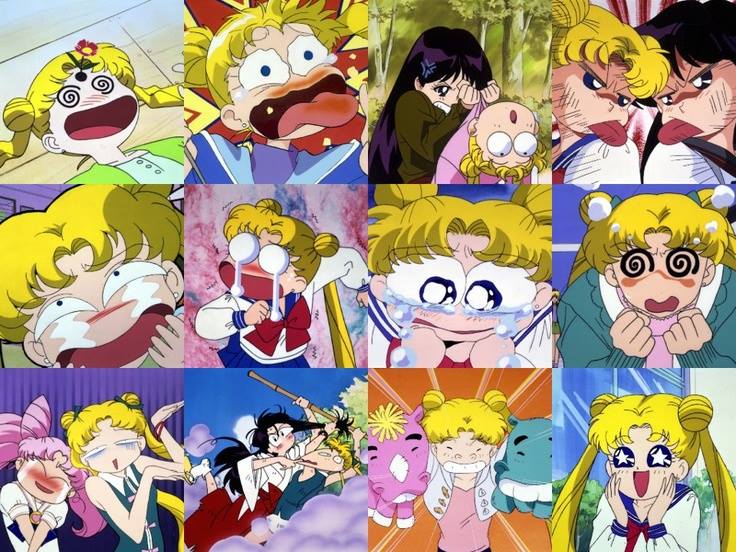 Sailor Moon's slender physique continues to be a concern for some fans, as well: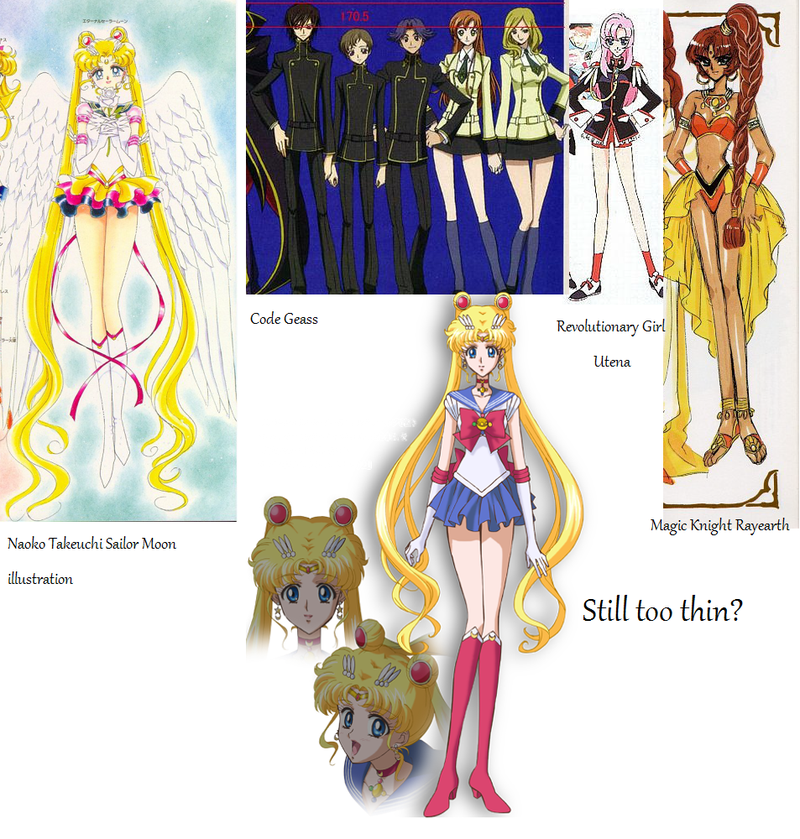 Personally, while Usagi's new figure sort of weirds me out, I recognize that debating a character's body like this is also strange and uncomfortable.
Of course, regardless of how you feel about her figure, I hope we can all agree that the lack of toast in the reboot is an abomination: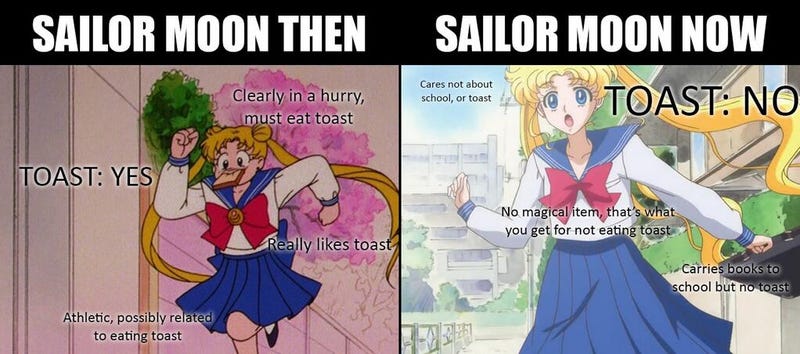 I also saw a lot of talk about Tuxedo Mask floating around—in particular, the uselessness of his new "disguise."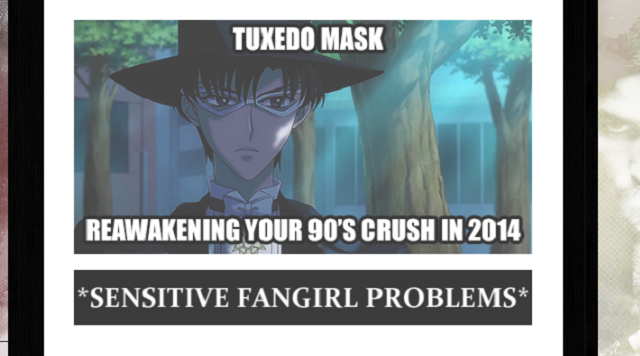 And yes, people are making lots of videos.
Here's someone shredding the theme song:
A fantastic video that compares the manga to the anime—remember, the reboot is supposed to follow the manga closely, hence the new art style:
And wouldn't you know it, the Anime Expo this weekend had a lot of Sailor Moon cosplay too:
Phew. What about you, how did you react to the first episode of Crystal?