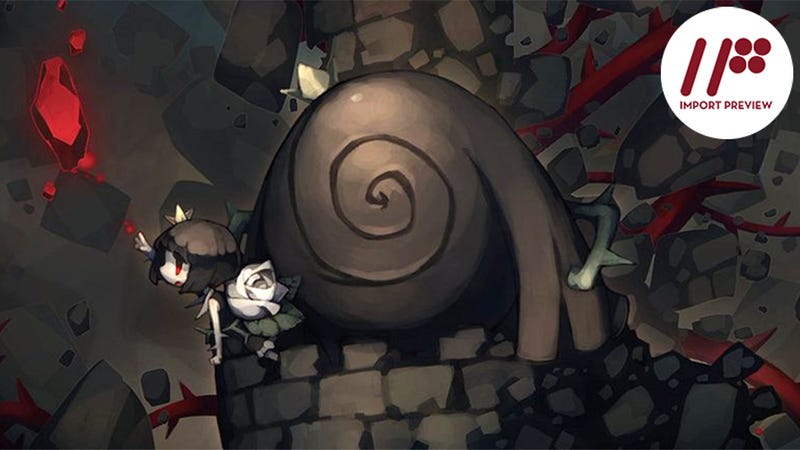 This is the heart warming tale of Rose, her golem friend, and Rose's many horrible, brutal, gore-filled deaths.

The game starts with no preamble. A young girl with a giant flower attached to her body, Rose, wakes up in the ruins of a castle. Through your first few minutes of gameplay, she quickly discovers two things: 1) the ruins are basically a death trap and 2) when she dies (often in a spray of violent gore), she is reborn in a new body grown out of a nearby flower. But one thing is clear, while technically immortal, she can still most definitely feel pain—and remember it throughout her reincarnations.
Luckily, Rose is not long alone in her quest to escape the castle. She soon comes across a golem. While she at first fears the hulking creature, his actions quickly prove him to be a steadfast ally. Alone, neither can escape; but together, their unlikely friendship can overcome any obstacle.
Like Yomawari: Night Alone, NIS' previous game in this style, Rose and the Old Castle of Twilight is a tale of innocence clashing with the supernatural. Rose is a normal girl. She is typically terrified by everything she and the golem encounter. And while her fear can and does overcome her from time to time, beneath it is a growing bravery to press on and overcome the obstacles in her way. It's almost painful to watch her suicidally enter death traps quaking in fear—knowing as she does that her death is the only way to open up the castle's next area.