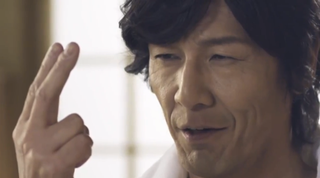 Until he retired last year, Taka Kato was one of Japan's most famous male porn stars. He recently appeared in a Chinese mobile game commercial, which has raised the ire of the Chinese government.
In the commercial, Kato talked about he's known as "Goldfinger." With his raised two fingers, Kato says, "I've brought happiness to 8,000 women." You can watch the banned ad below.
He adds that he hasn't had such a good experience until he tried mobile game Max Strike from One Click Games (aka Shanghai Wanke Internet Technology). The game was available through the Apple App Store and Google Play, and the ad appeared on Max Strike's official website.
According to China.org, the ad has been banned by the Ministry of Culture. This comes as China is cracking down on using sex and porn stars to sell games: there are regulations stating that games using porn, gambling, or violence will be banned.