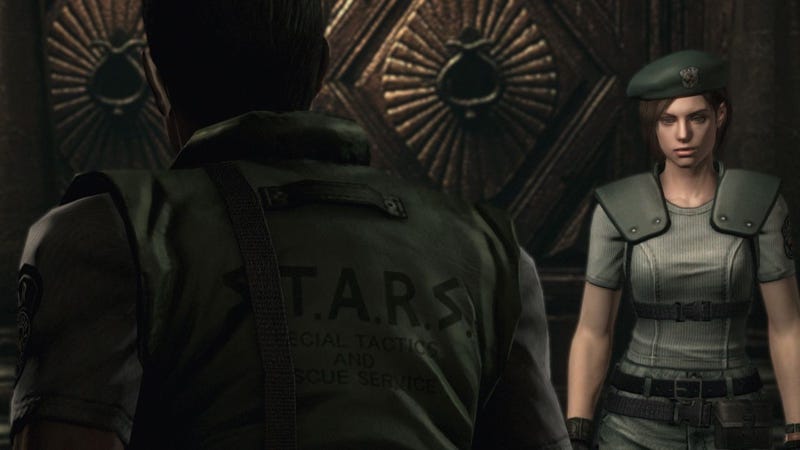 My love for survival horror games began with the first Resident Evil. As a kid I hated everything related to horror, but, after Resident Evil, I came to love and even seek out horror games.
I didn't know anything about the game and had no idea what to expect. The opening, with its live-action footage, reminded me of the horror films of my childhood. When the zombies started showing up in the mansion, I was terrified. The long halls, the strange puzzles, and the tight rooms made the whole place feel claustrophobic. There were so few bullets and ink ribbons that I had to run from a majority of my battles, sparingly using the typewriter to save when I could. Zombies began haunting my dreams.
Horror documentary The American Nightmare argues that horror's allure comes from providing a form of tribulation, even catharsis, for dealing with the terrors of real life. Seeing a horror film and coming through it together becomes a rite of passage for audience members, a common trauma they endure to help them bond with those around them. But a horror film is still a passive experience in comparison to a game.

There's No Place Like Sweet Home
I began Resident Evil playing as Jill Valentine. But because I was in control, I felt like it was me stuck inside that mansion. I was chilled when I saw the first zombie snacking on fellow S.T.A.R.S. officer Kenneth Sullivan. When the ghoul came to attack me, then actually grabbed me, I shook my controller in a frenetic panic. I killed it and ran away. Little did I know the horror was just beginning.
A Famicom game called Sweet Home was the original inspiration for Resident Evil. It's one of the scariest games developed, and even as pixelated 8-bit horror it oozed with a supernatural terror that worsened in the face of a terrible crime.