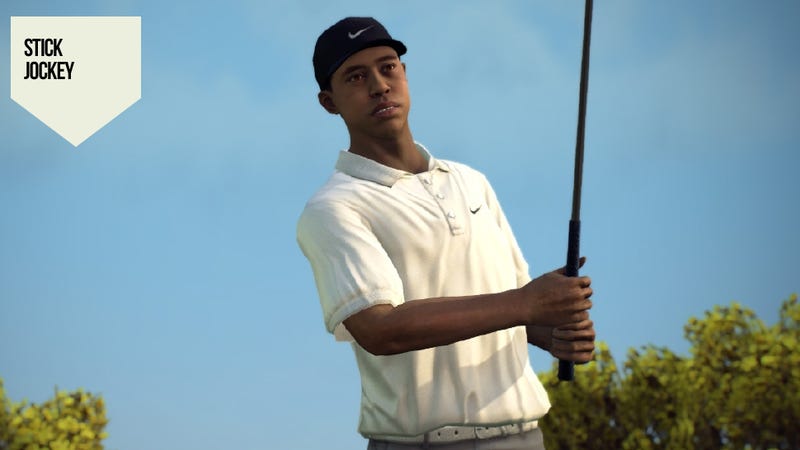 In no rec league could I ever throw a no-hitter. Alone on a basketball court I'd need half an hour to score 69 points—and a trampoline to dunk. But I can do all of those things in my living room. If video games give us the conceit of doing the impossible, only now has one demonstrated how hard that really is.
Thirteen years ago, Tiger Woods all but folded space and time in becoming the first man to finish a U.S. Open double digits under par. Casual fans may associate Woods' greatness more with events like The Masters, a modern-day birdiefest that he's won four times. Golfers understand Woods' 2000 U.S. Open is the most dominating performance in major tournament history. His worst round there was even par (the third) and he won, by 15 strokes, an event that has since seen two champions at five over par.
When it came time to build "Legends of the Majors," the showcase mode of Tiger Woods PGA Tour 14, the 2000 U.S. Open was atop its designers' list of more than 60 moments the game re-enacts from golf history spanning more than a century. The 2000 U.S. Open played out at Pebble Beach, a course that has been in the game for years. "Obviously, this is a big one," said Justin Patel, a designer on the series. "He won by 15 shots; it's the first leg of the 'Tiger Slam,' which is the closest anyone has gotten to winning any sort of 'Grand Slam'" except for the era in which two amateur championships were considered major tournaments.
Four rounds at par or better and a 15-stroke victory is as taken for granted in golf's video games as four home runs or a hat trick is in baseball's and hockey's—especially if you're playing on the easiest difficulty. Instead, Patel and his cohort slimmed down the challenge to just five holes—Nos. 10 and 12 through 15 at Pebble, aiming at Sunday pin placements. From this, Woods emerged four under par in 2000. To pass the challenge, you only have to go three under, while hitting three greens with a chance to putt for birdie.
I simply could not do it.
"This challenge is definitely up there as one of the toughest in the mode," said Patel, a guy who parlayed his own skill at the game into a job designing it.