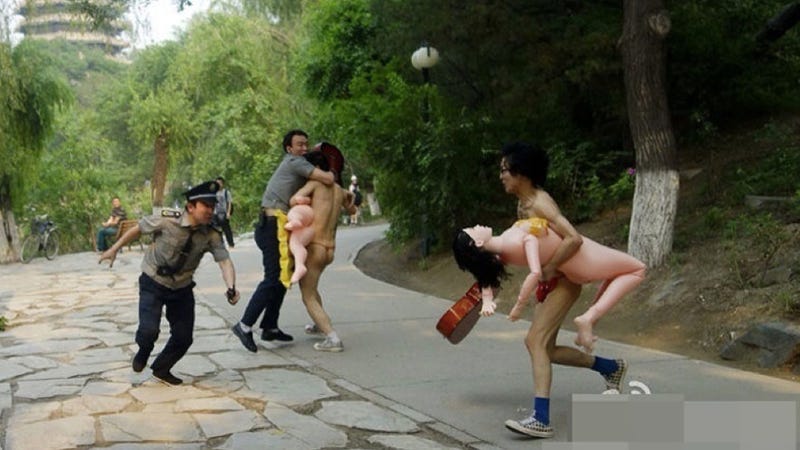 Late last week at Peking University in Beijing, China, men wearing skimpy underwear and carrying inflatable friends streaked the university's north campus and tried to jump into Weiming Lake. Then, university security showed up. That's when all hell broke loose.
Note: This post contains content some readers might find objectionable.
Campus security seized the men, who also were carrying guitars, and wrestled one to the ground.
On the men's chests, protest messages were written in black ink. They also carried a small inflatable raft. The men were ushered away by the police.
"This is performance art," Jie He, one of the protestors, told the Beijing News. The men were graduates of the prestigious Peking University and had hoped to go into the music business—only to find it incredibly difficult due to piracy, which has killed revenues.
The idea was that this "performance art" could raise more awareness about music piracy and copyright protection. Or something.
"Holding an inflatable doll while streaking is eye-catching," added Jie He, who wanted to create a stir online.
This past spring, an artist named Li Binyuan caught the imagination of the internet in China after a series of streaking incidents in Beijing with a blow-up doll as well as with a cross. Perhaps this was the inspiration?