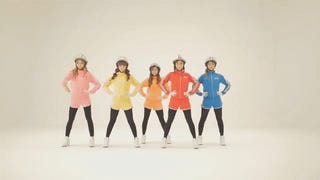 On YouTube, Korean pop group Crayon Pop racks up millions of views. Their videos feature members wearing colorful and interesting outfits. And some are calling them rip-offs.
On 2ch, Japan's largest forum, people are accusing Crayon Pop of stealing outfits from million-selling Japanese group Momoiro Clover Z. The allegations have also appeared in the group's native Korea.
Crayon Pop debuted last year, and when it did, the group's look was slightly different:
It wasn't exactly striking. Then this year, Crayon Pop exploded, thanks to catchy tunes, memorable dance numbers, and matching uniforms.
For those who follow pop music in Asia, the problem was that Crayon Pop's new matching outfits didn't exactly seem new—they reminded people of outfits Momoiro Clover Z outfits.
Momoiro Clover Z is one of the biggest groups in Japan. They sell millions of CDs and has sung the Pokemon anime theme song. The group has been around since 2008, and the group is famous in Japan for its color-coordinated and matching uniforms, which are inspired by everything from Power Rangers outfits, pirate clothing, school clothes, and more. Part of Momoiro Clover Z's appeal is their outfits.