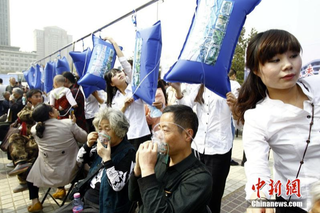 While today is April 1st, this is apparently no joke. The air quality in Chinese city Zhengzhou is awful and listed as "unhealthy." That's why late last month, bags of air were brought in for its citizens to get a taste of clean mountain air.
At the March 29 event, people lined up to breath fresh air from Laojunshan Mountain National Park. According to People.cn and ChinaNews, there were about twenty bags of air with oxygen masks set up for people to sample.
This was apparently a publicity stunt—make that, a somewhat depressing one. The point of the event, it seems, was to promote environmentalism as well as tourism to the mountain region.
As previously covered, here's a look at air quality levels in China compared with the rest of the world.