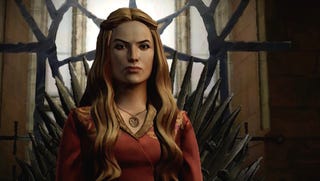 "There will never be a good Game of Thrones video game." For years, those words rang just as true as the Starks' promise of winter. Finally, it feels as though that's changed.
Telltale's new episodic Game of Thrones game gets its first of six episodes this week; it'll be out Tuesday on PC and consoles, and on iOS at some point shortly after. Good news: The episode, titled Iron From Ice, is pretty great. Fans of the books and, in particular, fans of the show, will almost certainly enjoy the hell out of it.
Telltale, the studio behind well-liked adventure series like The Walking Dead, The Wolf Among Us and most recently, Tales from the Borderlands, has been on a roll lately. While their more recent games haven't quite matched the breakout first season of The Walking Dead, they've still managed to earn and maintain a reputation for well-written, appealing adventure games.
Game of Thrones, however, represents a new challenge for the studio. It's the loftiest license they've tackled, and the one whose fans will almost surely prove hardest to please. Additionally, Game of Thrones itself has proven difficult to get right in video-game form. Its two best adaptations have been a terrific licensed board game and a PC strategy game that, while fantastic, isn't actually an official Thrones game.