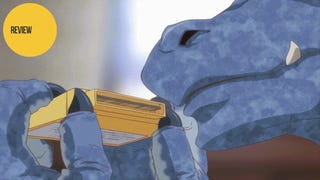 Outbreak Company is a love letter to otaku everywhere—and that is both its greatest strength and greatest weakness.
Good – Otaku Culture as a Tool for Change
Outbreak Company is a comedy about a hardcore otaku, Shinichi, who is hired by the Japanese government to promote otaku culture in a newly-discovered parallel world. The parallel world is typical magical fantasy fare—with elves, dwarves, knights, dragons, princesses, and everything else you'd expect. However, it is also a world with a different culture and rules. Racism is commonplace and the humans subjugate the other races by keeping them illiterate and uneducated.
Shinichi realizes he is in a unique position to help change this and thus starts a school. By teaching about manga and anime, he is able to show the people of this magical world something unique, alien, and truly captivating. Through subjecting them to specifically themed anime and manga, Shinichi is able to teach them the ideas of freedom and equality.